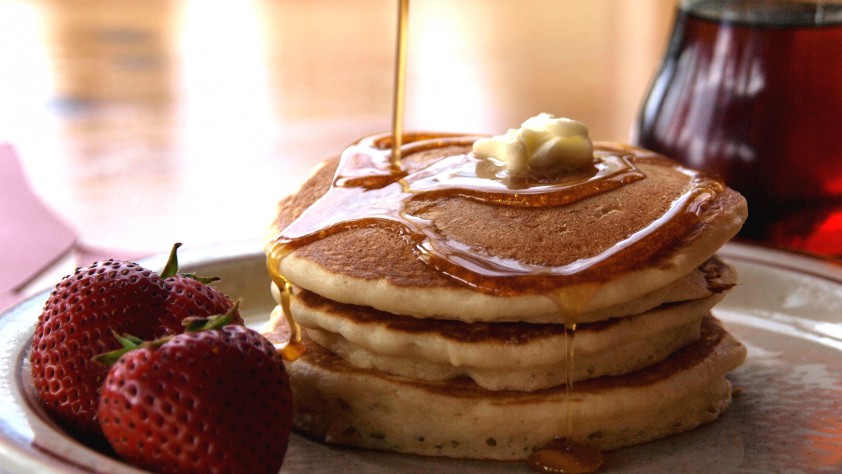 Polly's Pancake Parlor
Celebrating over 80 years of yumminess! 1938-2022
Enjoy Polly's Pancake Parlor's made from scratch pancakes topped with New Hampshire maple syrup at our place or yours. Full breakfast & lunch menu available all day.
Welcome! Polly's Pancake Parlor has been serving yummy home cooked meals for over 75 years. Come enjoy a stack of Oatmeal Buttermilk, Buckwheat or Whole Wheat pancakes. Sit back and savor a waffle smothered in real New Hampshire maple syrup. Come for lunch and have a slice of quiche made with local Harman's cheese. Enjoy the view and history while you eat!
Stop by and visit our restaurant for a quick bite or pick up some pancake mix and New Hampshire maple syrup to enjoy at home from our Gift Shop.
Not from around here, no problem! Head over to our online store and we'll ship you your favorite pancake mix with some New Hampshire maple syrup or send a meaningful gift your family and friends will treasure for meals to come.
Hours and Call Ahead Seating
Winter Hours: Thursdays through Mondays - 7:00 AM-2:00 PM
We do not take reservations, but we do **GENERALLY** accept call ahead waiting. Call 603-823-5575 ext. 16 to put your name on the waiting list . This is NOT a reservation but allows you to remotely add your name to the waiting list before arriving. For example if you call at 8:00 AM and we tell you that we have an hour wait, you can add your name to the waiting list and if you arrive close to 9:00 AM your name should be near the top of the list, but there could be a short wait to wait for a table to stand up and be reset.
We are open for indoor seating only, we DO NOT have outdoor dining, nor are we able to offer take out at this time due to staffing constraints.
Contact Information
672 New Hampshire 117, Sugar Hill, NH, USA