THINGS TO DO > GREAT OUTDOORS
Experienced rock climbers are challenged by the 1000′ vertical cliffs on Cannon Mt and lesser outcroppings in Franconia Notch such as Artist's Bluff, Eagle Cliff and Indian Head.

No one should attempt any technical climbing unless under the instruction of a climbing school or with an experienced guide. Climbers must register before and after their climbs at the trailhead parking lot by the south end of Profile Lake.
North Country Climbing
Evergreen Sports Center, 2572 US Route 302, Lisbon, NH
Indoor rock climbing & outdoor guided climbing

Offers a range of difficulties, styles, and terrain to suit beginners and experienced climbers alike, with experienced guides and instructors to help you craft the perfect day out climbing in the White Mountains or teach you the skills to climb on your own.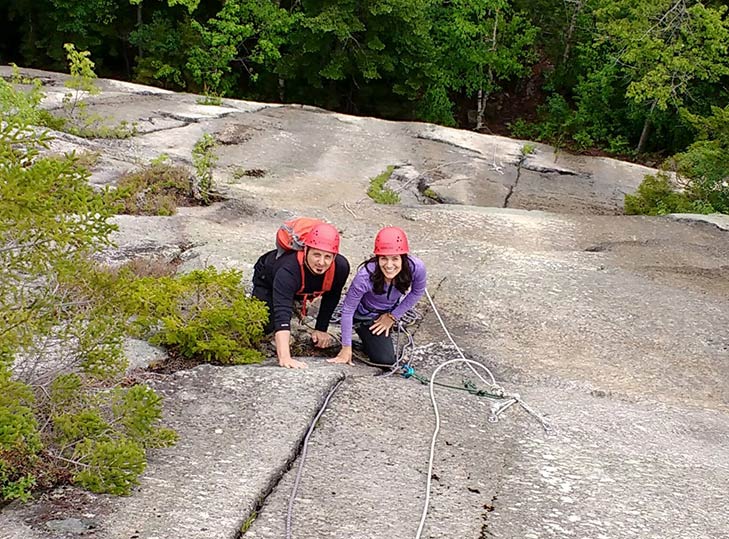 Falcon Alert
All climbers on the Eaglette and Eagle Cliffs are requested to avoid the nesting areas of peregrine falcon May 1st – mid-July
Cannon Cliffs
Park at parking lot on the south side of Profile Lake Heading south on 93 through Franconia Notch
Artist Bluff
Rte 93 exit 34C head north on Rt3 18, park at Echo Lake parking lot
Eagle Cliff
Rte 93 exit 34B park in Tram parking lot. Go under highway and follow Greenleaf Trail
Indian Head
Rte 93 exit 33 take rte 3 north to Indian Head trail head just south of Indian Head Resort on left
For more climbs in the region go to Neclimbs.com.