THINGS TO DO > GREAT OUTDOORS
This region offers a wide variety of lakes and rivers for kayaking and canoeing opportunities. Rentals and even tours are available at some locations.
Echo Lake Beach & Boat Rentals
Cannon Mountain, Franconia Notch State Park, Franconia, NH
At Echo Lake Beach, visitors can enjoy the beauty of a 39-acre lake with an excellent view. The slopes of Cannon Mountain ski area drop right to the edge of the lake, and the view highlights where the Franconia Range and Kinsman Range meet, creating the notch. Canoes, Kayaks, and Pedal Boats are available for rent at Echo Lake.
North Country Kayak
Dodge Hill Launch, Old Waterford Road, Littleton, NH
North Country Kayak immerses couples, families, and friends into the wilderness waters of the White Mountains. Our tours provide kayak instruction and guide-based knowledge all while ensuring a safe and memorable experience. Our kayak rental fleet allows you to enjoy Moore Reservoir at your own pace. Come enjoy wildlife sightings and spectacular vistas, all from the comfort of your kayak.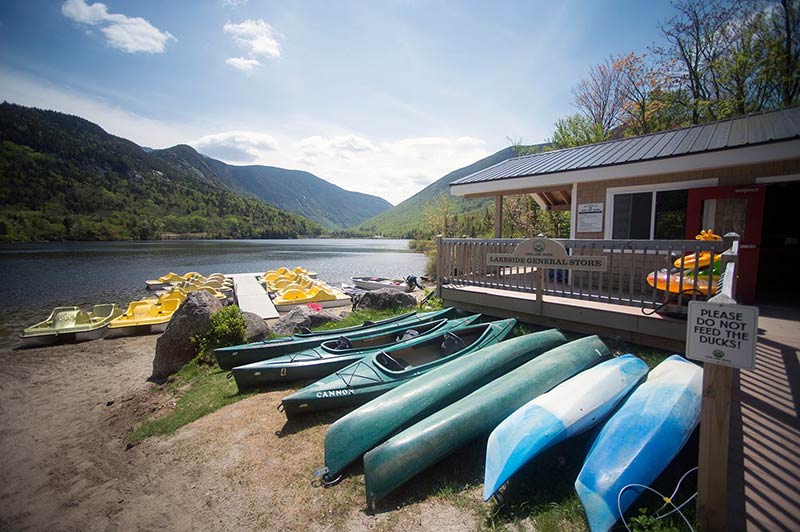 Opportunities for canoeing and kayaking around area rivers, lakes and ponds are listed below and rated as follows:
River ratings: (F) Flat water; (Q) Quickwater; (I) Very Easy; (II) Easy; (III) Medium; (IV) Difficult; (V) Expert; (VI) Extreme
Ammonoosuc River
Littleton-Woodsville, put in below dam Take out at covered bridge, 24.5 miles. Best at high waters Quick water (some current) to level III (medium)
Connecticut River
Moore Dam Reservoir to Woodsville NH
Put in below Moore Dam take out at bridge in Woodsville, 34 miles. Must portage around 3 dams, F-II
Gale River, Hamm Branch
Franconia, put in below bridge on Rte 116 and takeout at Jesseman Rd Truss bridge,8.5 miles. Level I, II Best in high water
Echo Lake
Rte 93 exit 34B Tram Exit. Launch is in left side of parking lot. F, Q
Profile Lake
Rte 93 south, parking lot just south of Profile Lake, launch on left F, Q
Streeter Pond
Take a left off Rte 116 heading north on Streeter Pond Rd. Boat launch is a left after you pass the pond, F, Q
Pearl Lake
Rte 177 north take a left onto Pearl Lake Rd. F, Q
Long Pond
Benton, Rte 166 south, left on Rte 112, right on Rte 116, first left on North and South Rd (dirt) Pond on left F, Q
Moore Dam Reservoir
Littleton, Rt3 93 north to exit 44, Rte 135 north, launch on left. F, Q
Pemigewasset River
Woodstock – West Campton, put in at parking lot, take out at bridge near gravel mill, 13miles Q, I, II