THINGS TO DO > GREAT OUTDOORS
New Hampshire has a large variety of places to do cross-country (Nordic) skiing.
Some are connected to big downhill (Alpine) ski areas and many more operate as cross country touring centers that specialize in that form of skiing alone. Most places that welcome cross-country skiers also offer snowshoeing, along with snowshoe rentals and lessons.
New Hampshire Parks & Recreations offers a bunch of helpful snowshoeing resources.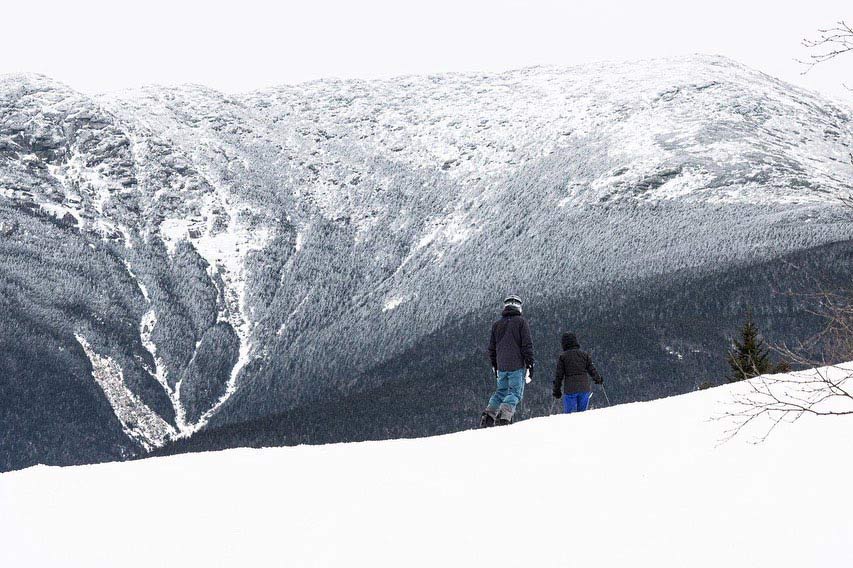 Ammonoosuc Rail Trail
The Ammonoosuc Rail Trail carries its users for 19.2 miles along the scenic river that shares its name and is itself a destination for fishing, kayaking, and canoeing. The trail passes through a variety of landscapes and several small historic mill towns that are ideal for sightseeing, shopping, or relaxing. The trail draws ATV riders, hikers, snowmobilers, snowshoers, and cross-country skiers – and also permits dogsledding. The Ammonoosuc Rail Trail is also part of the larger 83-mile Cross New Hampshire Adventure Trail between Woodsville, New Hampshire, and Bethel, Maine.
Franconia Notch Recreation Trail
The Franconia Notch State Park Recreational Trail is a 20-mile paved trail that parallels the Parkway in Franconia Notch State Park.

During the winter months, the trail is open to snowmobiles, snowshoers & cross-country skiers and offers incredible views of the nearby mountains and popular attractions. From the trail, you'll in easy reach of the Flume Gorge, the Old Man of the Mountain profile (may he rest in peace), Cannon Mountain Aerial Tramway, and Echo Lake among many other places. Part of Corridor 11 that runs from Concord, along I-93 through the White Mountains to Bretton Woods & Berlin.
Bretton Woods Nordic Center
210 Mount Washington Hotel Road, Carroll, NH
Experience the wonder of snow-covered trails on the grounds of the majestic Omni Mount Washington Resort. With little to no learning curve, snowshoeing can be enjoyed by people of all ages and fitness levels. From an easy stroll to a backcountry hike, this sport offers a great way to stay fit and enjoy the great outdoors. Follow groomed Nordic trails or make your own path through deep untouched snow, take in stunning Presidential Range vistas, explore the trails that meander along the Ammonoosuc River, or trek over the high-country snowshoe trails along the ridgeline of the Bretton Woods Mountain Resort. Snowshoe rentals are available at the Alpine Rental Shop and the Bretton Woods Nordic Center, or bring your own, and come explore the 100-km trail network and enjoy the area's natural beauty. 
Loon Mountain
60 Loon Mountain Road, Lincoln, NH
There's nothing quite like strapping into a pair of snowshoes to explore the White Mountains in winter. The scenic trail network offers a unique portal to the northern forest, with trails meandering along the snow-covered Pemigewasset River and switchbacks high onto the shoulder of Black Mountain. On your journey through the forest, you'll snowshoe under towering white pines, notice abundant animal tracks, and enjoy the quiet beauty of the surrounding White Mountain National Forest. Guided snowshow tours & packages are available. Trail map.
Mountain View Grand Resort & Spa
101 Mountain View Road Whitefield, NH
Put on snowshoes and walk the snow-blanketed Mountain View Trails while taking in the beauty of surrounding mountain peaks.

Adult snow shoe rentals are $14 and children shoe rentals are $12. Trail map.