THINGS TO DO > GREAT OUTDOORS
Vacationers can head out to explore the beautiful back roads of the White Mountains or travel the rural routes throughout Franconia, Easton and Sugar Hill and beyond. Several bike clubs are indigenous to this area and will often assist visitors and vacationers over well-established bike routes or share more leisurely cycling paths with families.
Bike repair, services and e-bike rental are available at
Franconia Basecamp
on Main Street, Franconia. Biking maps of New Hampshire, published by NH Department of Transportation, are available at the Franconia Notch Chamber of Commerce Welcome Center or online
here
.
The Tri-Town region of Bethlehem, Littleton and Franconia has three amazing mountain bike trail networks that total almost 100 miles of trails. Plus, the Cross New Hampshire Adventure Trail comes through Littleton and Bethlehem connecting miles of other trails and towns via the rail-trail. And the Franconia Notch Bike Path has spectacular views of Profile and Echo Lakes as you ride through the Notch!
Both Littleton and Franconia have pump-tracks to practice on, while Bethlehem has a pump track and skills park for entry level and more advanced riders.
You will love the endless possibilities of trails to ride year-round as they're also groomed for fat-tire riding in the winter. Any time of year, while you're catching your breath, take a moment to enjoy the amazing views from all the trails.
Adaptive Sports of the North Country has also noted that all three trail systems can be ridden on adaptive bikes. If you need to borrow an adaptive bike, please reach out to them here and they'll be more than happy to get you set up, and even provide instruction, if needed.
Many of the trails go through private land, and we are extremely grateful to those that allow it. Please be respectful to their land, the trails, and to other riders. Always Ride with Gratitude!
For more local biking information: bikethenorthcountry.com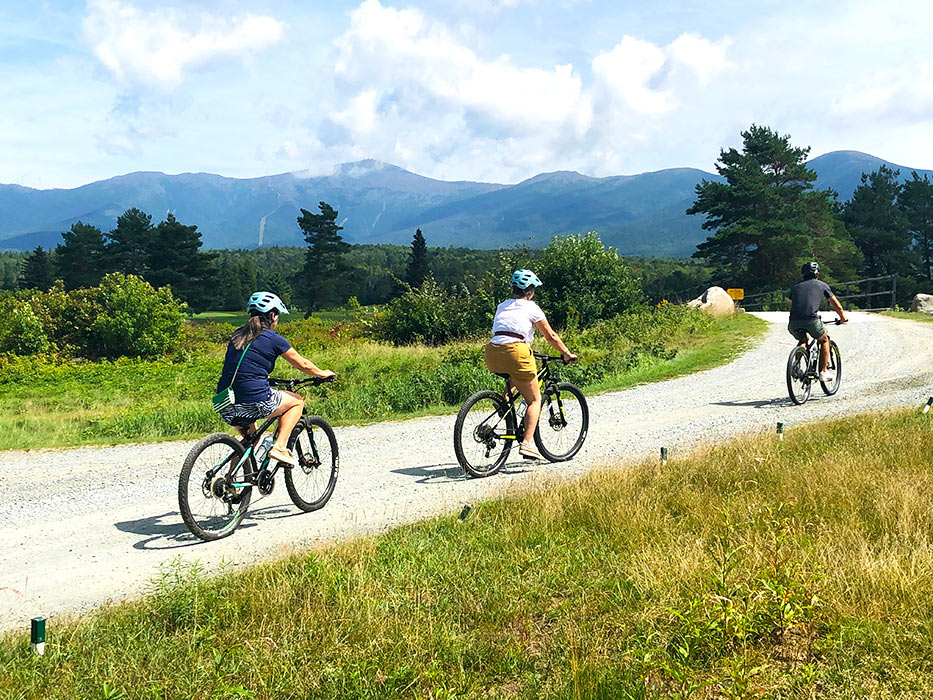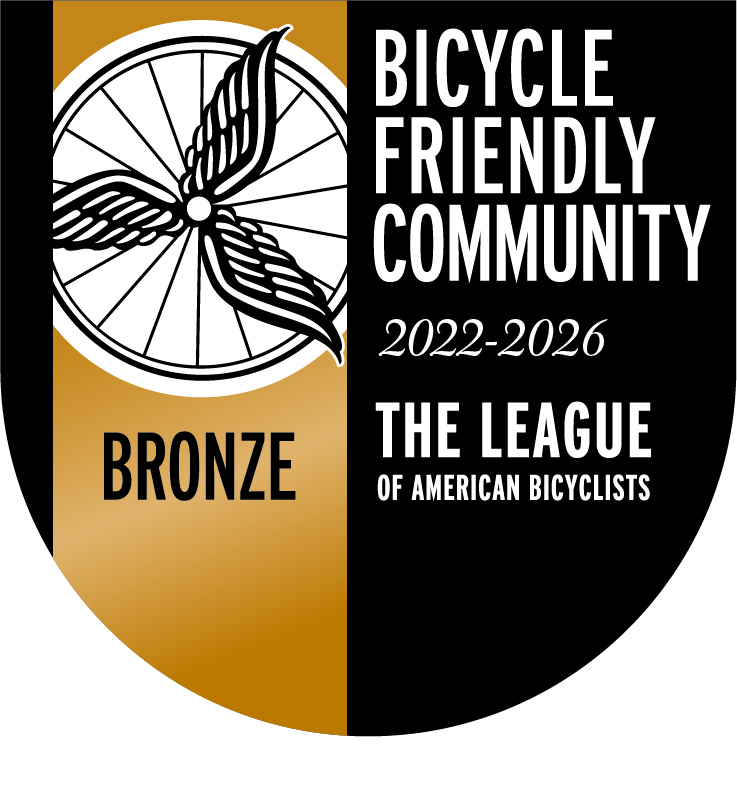 Bretton Woods Mountain & Fat Biking
Omni Mount Washington Resort
310 Mt Washington Hotel Rd, Bretton Woods, NH
Enjoy the scenery of Mount Washington Resort by bike on our expansive Valley Trail and Fabyan Fields trail systems. Grab a cross-country (XC) bike or a fat bike and explore as the trails wind through thousands of forest in the heart of the White Mountains. XC bike rentals are accessible through the Stone Pillar Lodge, located near the golf clubhouse on the Omni Mount Washington Resort. Fat bike rentals are just across the street at Bretton Woods Base Lodge. Bike rentals available.
*Closed-toe shoes are required.
Franconia Notch Bicycle Path
This 8.7 mile paved bike path goes through Franconia State Park, passes Echo Lake, the Old Man of the Mountain site, the Basin, and the Flume Gorge. One of the main attractions of the Notch, it is a multi use trail for biking, walking, in-line skating & snowmobiling. Biking this trail offers an opportunity to stop and visit many of the State Parks other attractions; perhaps combining biking and swimming by stopping at Echo Lake and the Basin. Or combining biking with hiking at Lafayette Campground where one can join the Lonesome Lake, Old Bridle Path to Mt Lafayette, and Falling Waters trails to Little Haystack. The Basin joins the Cascade Trail to Lonesome Lake & Mt Kinsman, or the Liberty Springs Trail to Mt Liberty. You can also combine biking with visiting The Flume.
To reach the Skookumchuck trailhead from I-93 N, take Exit 35 onto US 3 N/Daniel Webster Hwy. toward Lancaster. Go 0.1 mile, and look for trailhead parking on the right. To reach the Skookumchuck trailhead from I-93 S, take Exit 36 onto NH 141 toward South Franconia. Turn left onto State Route 141/Butterhill Road. Go 0.8 mile, and turn right onto US 3/Daniel Webster Hwy. Go 0.3 mile, and look for parking on the left.
To reach the Mt. Pemigewasset trailhead from I-93 S, take Exit 34A and merge onto US 3 S/Daniel Webster Hwy. Go 0.4 mile, and turn left into the Flume Gorge and Visitor Center parking lot. The trail starts at the north end. To reach the Mt. Pemigewasset trailhead from I-93 N, take Exit 34A and merge onto US 3 N/Daniel Webster Hwy. Go 0.1 mile, and turn right into the Flume Gorge and Visitor Center parking lot. The trail starts at the north end.
Note: Fees are charged at Flume Gorge, Cannon Mountain Aerial Tramway, and Echo Lake Beach. Bike rentals and shuttles are available at the Tramway.
Lincoln Woods Trail (The Wilderness Trail)
Riding through mixed forest for 2.6 miles, there are views of the East Branch of the Pemigewasset River and the White Mountains. The return side of this loop follows a section of the old East Branch and Lincoln logging railroad bed. An excellent waterfall and swimming hole are accessible via a short side trip. You can combine the trail with other trails that run through the forest in the White Mountains of New Hampshire, just northeast of Lincoln, including the Black Pond Trail and the Franconia Brook Trail. Together, the trails offer scenic mountain views, a beautiful waterfall and woodland adventure. There's a visitor center at the trailhead at SR 112 (Kancamagus Highway). To reach the southern trailhead, take State Route 112 (Kancamagus Highway) northeast of Lincoln. Look for signs to the parking area for Lincoln Woods; there is a visitor center there.
Cherry Mountain Loop
Nearly 30 miles of distance combines with a heavy sum of gravity to keep you on the bike for many hours. You'll go up, up, up, and down much too briefly. The aerobic challenge comes of course from the climbing, and though singletrack trail skills won't come into play along the pavement and maintained gravel route, long, steep descents demand the ability to ride within your limit. And speaking of limits, watch the speed limit when falling down Cherry Mountain Road and the road through Jefferson Notch, for there's bound to be oncoming car traffic. Trail Surface: varied, using paved, unpaved roads of gravel and dirt, abandoned woods road and optional rough trail. Mountain bikes share use with hikers. Vehicle traffic on paved and unpaved roads. Mt. Mitten section may be impassable at times, check ahead. Carry bikes over wet areas and refrain from riding after periods of heavy rain.
North of The Notch
Mountain bike paths crisscross the entire North Country. Littleton has excellent multi-use trails maintained by the local snowmobile club that connect to all other trails throughout the region. A map of their trails may be obtained from the Littleton Area Chamber of Commerce.
The White Mountain National Forest
Most of the National Forest is open to biking. Many old roads are excellent for mountain bikes. The Forest Service does ask that bikers avoid muddy trails and stay on designated roadways. The White Mountain National Forest Bike Map is available at the Visitors Center in Lincoln.