THINGS TO DO > GREAT OUTDOORS
Our region offers a diverse venue for swimming for all ages and abilities. Refreshing dips in mountain lakes and streams, to well safe-guarded beaches in Franconia Notch State Park. Even the "ole" swimming holes that made childhood memories.
One caution for avid vacationers and water adventurers- cold water streams are to be admired and photographed, but unsafe for swimming due to the nature and unpredictability of the currents in these streams.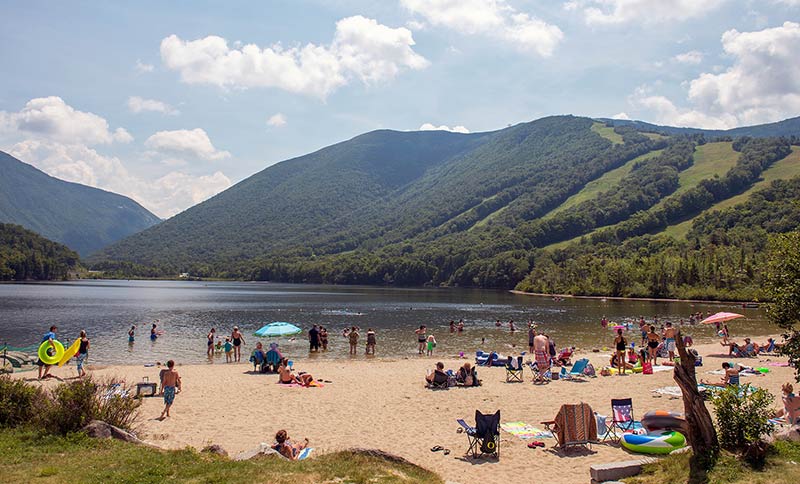 Echo Lake Beach
Franconia Notch State Park, Franconia, NH at Exit 34C off I-93.
Whether you want to work up a sweat on the walking trails or just relax with a picnic, this is the spot to get your nature fix.

Entrance fee to the beach; Lifeguard available at posted times.
Forest Lake State Park
97 Forest Lake Rd., Dalton, NH
O of the ten original state parks, was created in 1935. The park spans 397 acres and its 200-foot sandy beach lies on the shore of Forest Lake. Popular activities in the park include swimming, picnicking, mountain biking, fishing, and boating. Canoe, kayak, and other car top boat users can access Forest Lake through the park only by carrying watercraft a few hundred feet from the parking area. There is no boat ramp within the park, one is available on Newell Lane off Forest Lake Road.
Lonesome Lake
Pristine mountain lake with great views and refreshing swimming after a hike from the trailhead at Lafayette Campground, or across from the top of Cannon Mountain.