THINGS TO DO > GREAT OUTDOORS
Come wintertime, hundreds of miles of scenic dirt paths and gravel roads turn into snowmobile-friendly terrain.

Can you think of anything more fun than zipping through the snow-frosted forest, spotting animal tracks and mountain views along the way. Remember, if you are bringing your snowmobile from out-of-state, you are required by law to obtain a New Hampshire snowmobile registration to ride on any of New Hampshire's 7,000 miles of trails.

Visit the New Hampshire Fish and Game website for more information on where to register your snowmobile.  
White Mountains Attractions Resource Guide available here
NH snowmobile trail map available here.
For guests who are looking to stay the night, and have snowmobiles of their own, ample parking is available for trailers. For day visitors, snowmobile parking is available directly in front of the resort where you will be afforded breathtaking views and access to the Harvest Tavern and Provisions Gift Shop. The resort does not rent snowmobiles directly.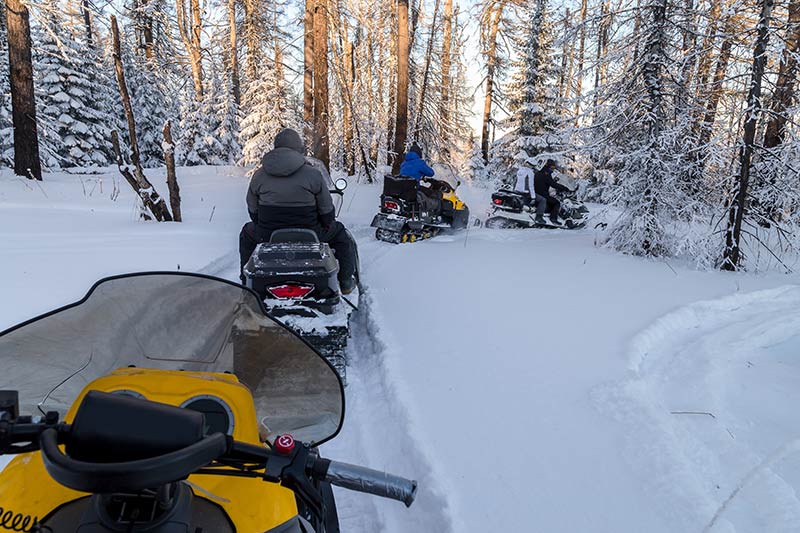 Ammonoosuc Rail Trail
The Ammonoosuc Rail Trail carries its users for 19.2 miles along the scenic river that shares its name and is itself a destination for fishing, kayaking, and canoeing. The trail passes through a variety of landscapes and several small historic mill towns that are ideal for sightseeing, shopping, or relaxing. The trail draws ATV riders, hikers, snowmobilers, snowshoers, and cross-country skiers – and also permits dogsledding. The Ammonoosuc Rail Trail is also part of the larger 83-mile Cross New Hampshire Adventure Trail between Woodsville, New Hampshire, and Bethel, Maine.
Franconia Notch Recreation Trail
The Franconia Notch State Park Recreational Trail is a 20-mile paved trail that parallels the Parkway in Franconia Notch State Park. During the winter months, the trail is open to snowmobiles and offers incredible views of the nearby mountains and popular attractions. From the trail, you'll in easy reach of the Flume Gorge, the Old Man of the Mountain profile (may he rest in peace), Cannon Mountain Aerial Tramway, and Echo Lake among many other places. Part of Corridor 11 that runs from Concord, along I-93 through the White Mountains to Bretton Woods & Berlin. Rentals are available in Lincoln, NH. This trail is also used by cross-country skiers & snowshoers.
Mountain View Grand Resort & Spa
101 Mountain View Road Whitefield, NH
With 7,000 miles of snowmobile trails throughout the state, New Hampshire is one of the best places to enjoy this iconic winter activity. The resort itself is situated right off Corridor 5, making it an excellent spot to begin your snowmobiling adventure, or a convenient rest stop to enjoy a bite to eat or soft bed. Secondary trails connect the resort's own trail system to Corridor 5 and allow you to ride from downtown Whitefield to nearby Lancaster by way of Weeks State Park, which offers a truly unique riding experience to the top of Mt. Prospect.