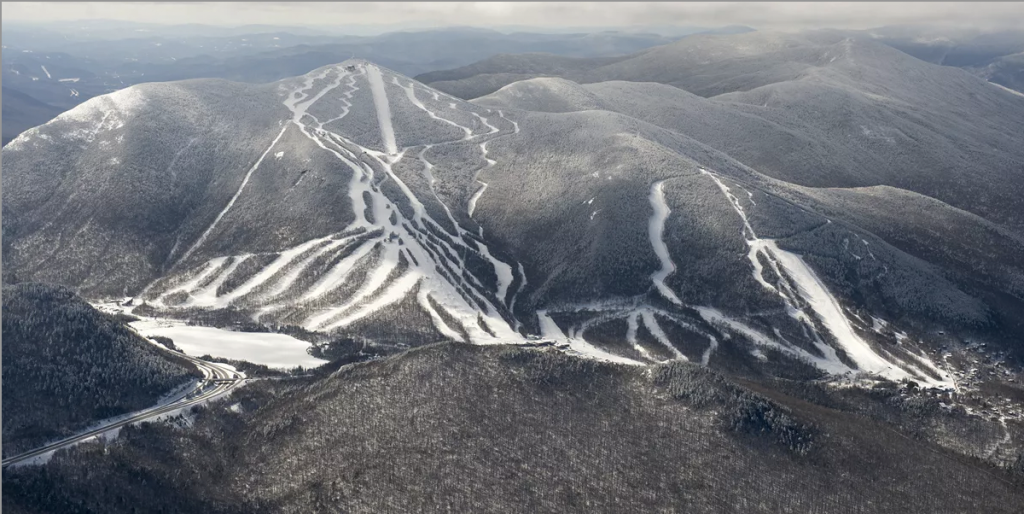 Cannon Mountain Ski Area, Aerial Tramway & Franconia Notch State Park
The first passenger aerial tramway in North America began operation on this site in 1938. Almost 7 million passengers were carried to the top by the first tram. Tram II was completed in 1980, and today, you can take a scenic 7-minute ride in one of two enclosed cable cars to the 4,080-foot summit of Cannon Mountain and enjoy panoramic views of the distant valleys and mountains. Each tram car has a capacity of 80 persons and ascends 2,022 feet vertically over a horizontal distance of more than one mile. Walking trails to a summit observation platform leave from the tram station. A gift shop and cafeteria are located in the tram base station. Cannon Mountain Ski Area has 95 trails & glades for all ability levels and is recognized as one of the best values and overall experiences for ski areas in New Hampshire & New England. Cannon is the home of the New England Ski Museum, which is located near the base of the tramway. It is open daily from 10:00-4:00, and is on the same seasonal schedule as the tramway.
Cannon Mountain Aerial Tramway
The Aerial Tramway is now closed for the season.
___________________________________________
Flume Gorge and Visitor Center
Currently closed for the season.
The Flume Gorge Trail is now ONE-WAY ONLY with the only option being to walk the entire loop in one direction. The Flume building is open to the public for retail/food/beverage.
Open May  – October:
Open daily from 9am – 5pm.
The last time slot for admission will be 4pm – 5pm. No entry will be permitted after 5pm.
Ages 13+: $21 at ticket window, $18 online
Ages 6-12: $19 at ticket window, $16 online
5 & Under: FREE w/ paid adult. You must still reserve a ticket for your 5 & under children, toddlers & infants.
* All rates and dates are subject to change.
*Please read below before making a Reservation*
Click here for Flume Reservations

___________________________________________
Echo Lake Beach & Boats
Currently closed for the season.
At Echo Lake Beach, visitors can enjoy the beauty of a 39-acre lake with an excellent view. The slopes of Cannon Mountain ski area drop right to the edge of the lake, and the view highlights where the Franconia Range and Kinsman Range meet, creating the notch
Advance Online Reservations are Required.
Purchase Echo Lake Admission Tickets here.
Before purchasing reservations, please read info here.
___________________________________________
Recreation Path & Bike Rentals
The paved recreation path is open for use daily.
Bike Rentals will be available at the Aerial Tramway & Sport Thoma in Lincoln, NH Available at the Tramway Friday – Monday and available at the Lincoln Shop Tuesday – Thursday. Sport Thoma offers a full range of Giant all-terrain bikes for adults and children & shuttle service.
RENTAL RATES (subject to change)*
Full Day Bike Rental – $50 (Shuttle service & helmet rental is included in price.)
Half-Day Bike Rental – $35 (Shuttle service & helmet rental is included in price.)
Child Trailer (only available with rental, limited supply): $10 + bike rental
*rates subject to change
For reservations and general information, please call: Sport Thoma Retail Shop on Route 3 in North Lincoln by Exit 33: (603) 745-8151Visit the Franconia Notch Recreation Path page for more details on the bike path.
___________________________________________
Bald Mountain and Artists Bluff
Reached by a short hike, this loop offers some of the best views of Cannon Mountain and Franconia Notch for the effort. The 1.5 mile loop begins in the parking area across Route 18 from the Peabody Base Area. After .25 mile, a short, steep path diverges left for .1 mile to the open summit of Bald Mountain.
The main trail continues on from the junction and bears right, up and across the low ridge. A short, unmarked path diverges left to the open top of Artists Bluff. The main trail continues down to Route 18 near Echo Lake.
___________________________________________
Lafayette Place Campground

The camping and hiking hub of the Notch is centrally located in the Park at Lafayette Place Campground. It provides a great base from which to enjoy hiking, biking, fishing, swimming, and many attractions in the White Mountains. Information about hiking trails, safety, and the natural and cultural history of the park is available at the cabin near the campground entrance.
Hours
– Campground is staffed 8am – 9pm daily
– Restroom Facilities and Showers open 24 hours
– Online Reservations are required in advance – No Walk-ins (see reservation details below)
Click for more information
Winter Camping:
Lafayette Place Campground
* Centrally located in Franconia Notch State Park, it provides a great base if you're looking for a primitive winter camping spot close to winter hiking, skiing & snowboarding.
* Lafayette Campground provides 97 wooded tent sites available for primitive camping only with no facilities. Winter camping at Lafayette Place Campground is Carry-In, Carry Out. A pay station is provided for self-registration.
Cannon RV Park - Reservations now required year-round
* The 7-site RV park, located on the north shore of scenic Echo Lake, provides a great base from which to enjoy winter hiking, skiing & snowboarding.
* $25/night off-season rate
* Mid-October to Late-May are at off-season rates and the RV Park is carry-in, carry-out only with no water or sewer hookups. Electric hookup is available.
* Reserve spot Year-Round at reserveamerica.com
___________________________________________
The Basin
Currently closed for the season.
At the base of the beautiful waterfall at this site is a granite pothole 20 feet in diameter. It is believed to have been eroded 15,000 years ago while the North American ice sheet was melting. The Basin has been smoothed by small stones and sand, whirled around by the Pemigewasset River.
Below the Basin is a water-eroded rock formation called the Old Man's Foot.
The Basin can be accessed from the northbound and southbound directions and has its own marked exits. There are picnic tables and walking paths, as well as hiking trails.
___________________________________________
PETS: Pets are only permitted in Franconia Notch State Park in the designated dog walks in the Flume & Tramway parking lots. Pets are prohibited from Echo Lake Beach, Lafayette Campground, on the Tram and in the Flume Gorge.
Contact Information
Cannon Mountain, Franconia, Grafton County, New Hampshire, United States