La Cage Aux Folles
03nov7:30 pmLa Cage Aux FollesTheatre Up
Event Details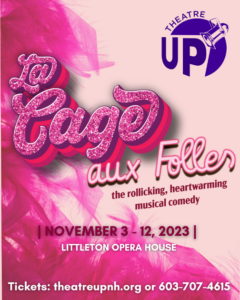 Theatre UP kicks off the season with a beloved musical comedy The New York Times lauded as "a winning musical that celebrates love, laughter and wonderful excesses…joyously engineered to entertain," La Cage Aux Folles remains one of musical theatre's all-time biggest hits, winning five Tony Awards.
With music and lyrics by Jerry Herman (Hello Dolly, Mame) and a book by Harvey Fierstein (Hairspray, Newsies), La Cage Aux Folles is based on the play by Jean Poiret. Adding new dimensions to the traditional musical comedy, it's a crowd-pleasing, rollicking, and heartwarming musical about family, commitment, show biz, and drag that remains one of musical theatre's all-time biggest hits. Since its debut on Broadway in 1983, it has delighted audiences worldwide and is perhaps never more relevant than it is today.
Jerry Herman's glittering show tunes overflow in the outrageous tale of a family of cabaret performers led by partners Georges and Albin. When their son brings home his fiancée and the future in-laws, the limits of love, parenthood, and mascara are put to the test. Tender romance and wild laughter are center stage as the Riviera's most delicious drag nightclub bursts to life on the Littleton Opera House stage!
Executive Director Lynne Grigelevich Community theatre is about and for the community, a synergistic relationship by which everyone benefits and thrives. Theatre is a place many call home, a second family. Beyond entertainment, it provides opportunities for collaboration, expression & expansion, and rich diversity. Theatrical arts benefit a community economically, socially, and through belonging, and Theatre UP considers what we do to be in partnership with those who volunteer, support, and help sustain us. We believe that everyone benefits from what we are able to bring to the North Country because of the love & support of our community.
Director Jonathan Verge, musical director Shoshana Lieberman, choreographer Madalyn Sheehy, orchestra manager Jessie Lanham, Master Set Constructors Andre Richardson and George Mitchell, and Stage Manager Katie Esselman round out the production team. Our production stars Andrew Lidestri as Albin, Owen Fogg as Georges, and features Jake Blankenship, Jen Donovan, Brendan Hadash, Melanie Moschella, Bj Williams, Courtney Vashaw and an ensemble of nineteen local performers who bring this classic musical comedy to our stage.
Kerri Harrington, business owner and co-founder of North Country Pride – The arts are absolutely imperative for a healthy, thriving and robust community. Littleton, NH has become a beacon of cultural significance due to its many thriving arts programs, one of the most profound being Theatre UP. Community theatre brings new ideas, concepts and celebration to people that may not have the chance to have those experiences otherwise. As someone who has attended many of the shows, my life is forever changed by the sights and sounds of live performances that Theatre UP has brought to this area.
Elaine French, Director of Littleton Library – Community theater is amazing, especially in the North Country of New Hampshire. Local talent, not just the actors but costume design and construction, set design and construction; lighting, sound, etc… come together to provide quality entertainment to their friends, neighbors and the many tourists we have during the year.
La Cage aux Folles runs November 3-12, 2023. Friday and Saturday performances are at 7:30 p.m., and Sunday matinee performances are at 2:00 p.m. Tickets range from $18-$22.00. For this special production, we will offer limited $25 per seat cocktail table seating that includes complimentary refreshments. Tickets may be purchased at theatreupnh.orheatreupnh.org or by calling the box office at 603-707-4615.
The production's director, Jonathan Verge, said, "In many ways, La Cage aux Folles is a farce. We present this musical to you 50 years after Jean Poiret's play of the same name debuted in Paris, and 40 years after it opened on Broadway. That this material feels so timely and reflective of our current socio-political climate is a bit of a tragedy. That being said, it's time for some fun! Live, laugh, and love as hard as you know how. The best of times is now, and it is up to us to make it so."
For more information about the production of La Cage aux Folles, follow us on social media: Facebook.com/theatreupnh and Instagram.com/theatreupnh
This production is made possible thanks to the support of The Martland Family as our opening night sponsor and a Collaborative Community Sponsorship provided by Scott Hunt, North Country Pride, The Loading Dock, Polly's Pancake Parlor, Franconia Base Camp, Our Friends Our Neighbors, and The Little Village Toy & Book Shop.
Fierstein & Herman's "La Cage Aux Folles" Is presented through special arrangement with Concord Theatricals. All authorized performance materials are also supplied by Concord Theatricals. www.concordtheatricals.com
******************
Theatre UP is a community theatre company serving the North Country with quality theatrical experiences for forty-three years. The company's mission is to create exceptional theatre in the community setting, making theatre accessible to interested thespians and audiences at the Littleton Opera House.
Theatre UP is a nonprofit 501 (c) (3) organization.
more
---
Please confirm that you are not a robot.
---