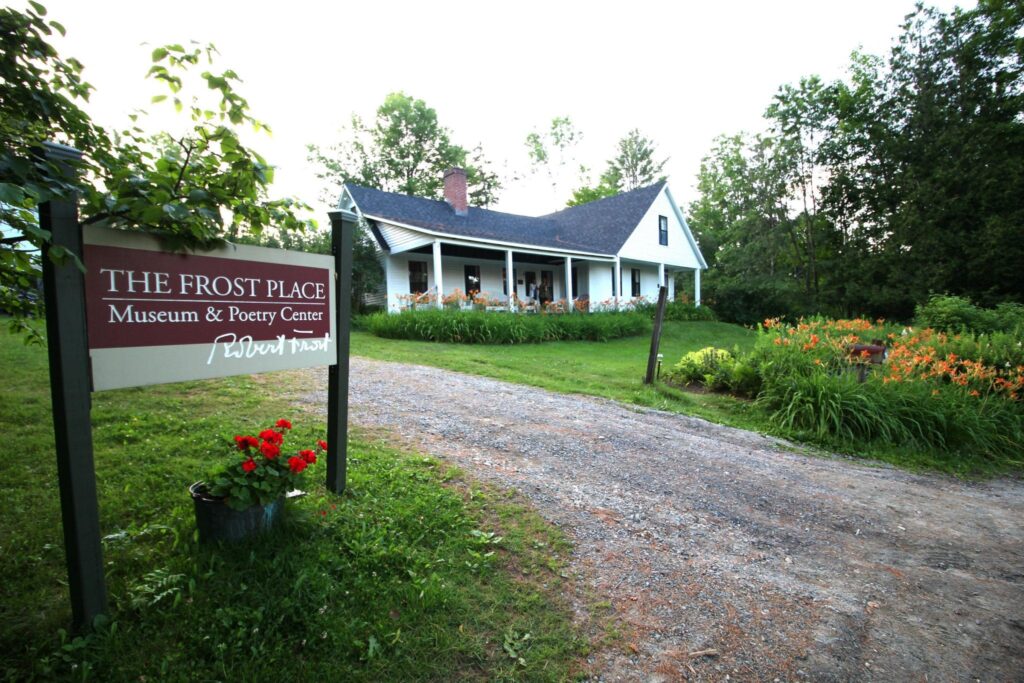 The Frost Place
A permanent home and museum for poets and poetry
The Frost Place is open six days a week! We are open from 10am-5pm each day except Tuesdays until mid-October. All are welcome to enjoy the view from Robert Frost's porch and the Poetry Trail year-round.
The Frost Place is a nonprofit educational center for poetry and the arts based at Robert Frost's old homestead, which is owned by the town of Franconia, New Hampshire.
The Frost Place was founded in 1976 when town moderator David Schaffer requested $5,000 to hold the home for purchase by the town. The farmhouse is where Robert Frost and his family lived full-time from 1915 to 1920 and spent nineteen summers. A board of trustees was given responsibility for management of the house and its associated programs, and from 1977 through 2005 teacher and scholar Donald Sheehan served as executive director. In 2010 the trustees appointed poet Maudelle Driskell as Sheehan's successor.
Since 1977, The Frost Place has awarded a fellowship each summer to an emerging American poet, including a cash stipend and the opportunity to live and write in the house for several months. In addition, The Frost Place has sponsored an annual Festival and Conference on Poetry for writers seeking classes and workshops with a faculty of illustrious poets, a teachers' conference, and an advanced seminar.
Frost Shops
We're excited to announce a new way to shop for Frost-inspired books and merchandise while benefitting The Frost Place.
Now you can show your love for poetry and support our cause with our brand new Bonfire collection of shirts, hat, mugs and more.
Browse a selection of Frost favorites and titles from TFP's faculty, fellows, and former poets in residence from Bookshop.org, which supports independent bookstores.
Contact Information
158 Ridge Rd, Franconia, NH