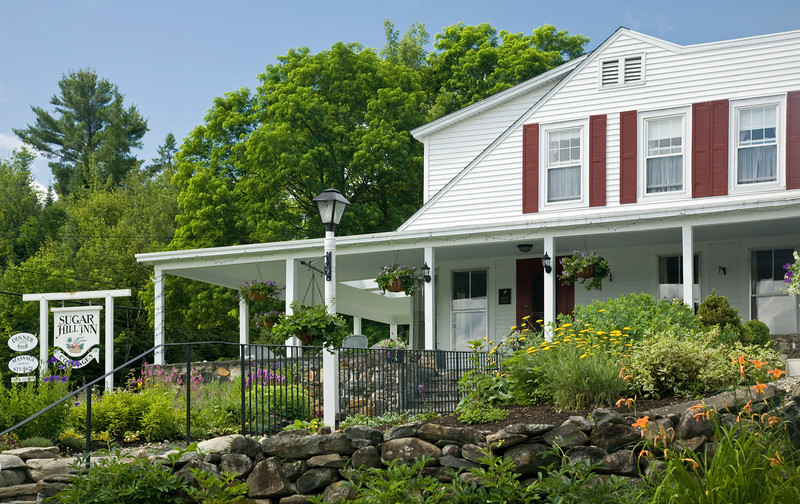 Sugar Hill Inn
Fall in love with the beauty of New Hampshire's White Mountains at the Sugar Hill Inn.
Sugar Hill Inn Bed and Breakfast is the perfect romantic getaway.
The press declares us the number one place in New Hampshire to celebrate a special occasion. Guests join us from around the globe and all year. We are a food lover's paradise with a deep commitment to unforgettable food. Our guest rooms and cottages feel stylish yet cozy.
The Inn has been restored to the full glory of a historic farmhouse built in 1789. Your room is designed to make sure it's the ultimate place to relax. Each spacious room features beautiful views an elegant furnishings. Our amenities range from luxury soaking tubs, to cozy fireplaces and the finest linens. A commitment to displaying original art makes the Sugar Hill Inn a unique destination. The Sugar Hill Inn features the historic main house and seven cottage rooms. Our Dream Cottage is the ultimate escape for a honeymoon. Our family of cottages are the perfect romantic hideaways.
The Culinary Experience is an integral part of any stay at the Sugar Hill Inn. We use only the freshest local produce and herbs grown in our own gardens. We serve aged cheddar from Harman's, goat cheese from Vermont and maple syrup from Sugar Hill. The day starts with a full breakfast served in our dining room while you take in the breathtaking vistas of Cannon Mountain and Mt. Lafayette.
At 4:00 pm it is time for a treat. Join us for small bites and cocktails.
Before dinner enjoy your favorite cocktail, beer or wine while sharing your day's adventures with your fellow travelers.
We have an approachable New England approach to fine food and fine dining. The table is yours for the evening. Take your time to enjoy the candlelight and cozy fire with the combination of great food, wine and conversation. The restaurant is currently open for dinner Wednesday through Saturday, but we will be expanding dining options in 2023! More to come!
After dinner enjoy your coffee or brandy by the fire.
With advance notice, we can accommodate most dietary requests. Please let us know how we can serve you.
The Sugar Hill Inn has received the Distinguished Restaurants of North America (DiRoNA)'s Achievement of Distinction in Dining award for 2009 – 2018.
Dinner reservations are often full on the day a guest arrives so we strongly recommend making an advance reservation if you are planning to dine at the inn.  24-hour notice of cancellation for a dinner reservation kindly requested.
Our spa features world-class massages. We feature hot stone and deep tissue. A massage makes the perfect gift. Guests trying a massage for the first time wonder why they've never had one before.
Gather a group of your friends and family and make your own Special Weekend! We'll make arrangements for your group activity.
Our staff can make your special occasion an outstanding and memorable event. Whether it's a sunset wedding in our garden, a romantic candle lit dinner, a cocktail reception or a relaxing, off-site business planning session, cycling, skiing or hiking, the Sugar Hill Inn can meet your special needs. Call us to plan your next event.  We specialize in high-quality functions with 28 guests or less.
Amenities
Lounge, Outdoor Pool, Pet Friendly, Restaurant On-Site, Spa, Suites, Vacation Rentals, Wi-Fi
Dining Options
Breakfast, Dinner, Lounge
Contact Information
116 Route 117, Sugar Hill, NH