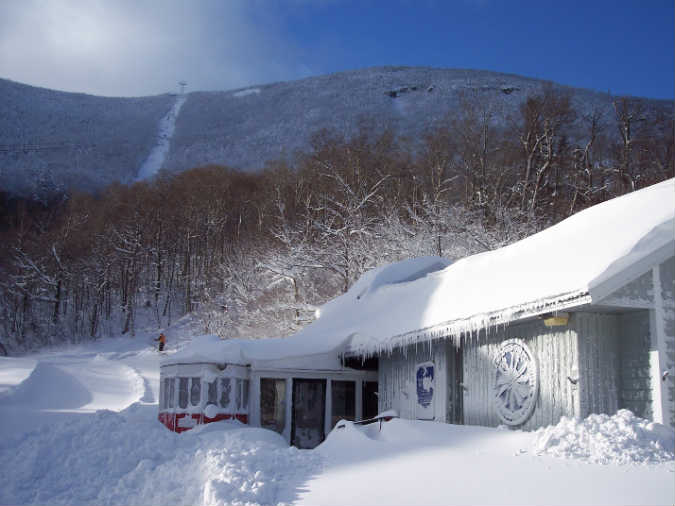 New England Ski Museum
Welcome to the New England Ski Museum. Our mission is to collect, conserve, and exhibit elements of ski history for research, education and inspiration. We have operated our Museum at Franconia Notch State Park since December 1982, and our Eastern Slope Branch in North Conway since February 2018. We welcome thousands of visitors to both branches each year. Whether online or in person, we encourage you to enjoy our stories from the history of skiing.
Our permanent exhibition is From the First Tracks to the Fall Line: eight thousand years of skiing. It presents a timeline of the development of skiing from its prehistoric roots up until the advent of the shaped ski in the 1990s, and includes local aspects of ski history with national implications such as several important 'firsts' at Cannon Mountain, and the career of area native Bode Miller.
New England Ski Museum is a member-supported non-profit organization dedicated to the history of skiing. We offer permanent and annually-changing exhibits and invite you to visit our museum in beautiful Franconia Notch State Park, New Hampshire
The Franconia Notch Branch of The New England Ski Museum is located at Exit 34B of Interstate 93, at the base of the Cannon Mountain Aerial Tramway, which takes skiers and sightseers up 2,000 feet to the summit of Cannon Mountain. The Cannon Mountain tramway was the first to be built in North America. The Museum is open from 10 AM to 5 PM seven days a week from Memorial Day through the end of ski season at Cannon Mountain, which is normally in early April.
Admission is free, with donations gratefully accepted.
Contact Information
35 Tramway Drive, Franconia, NH, USA