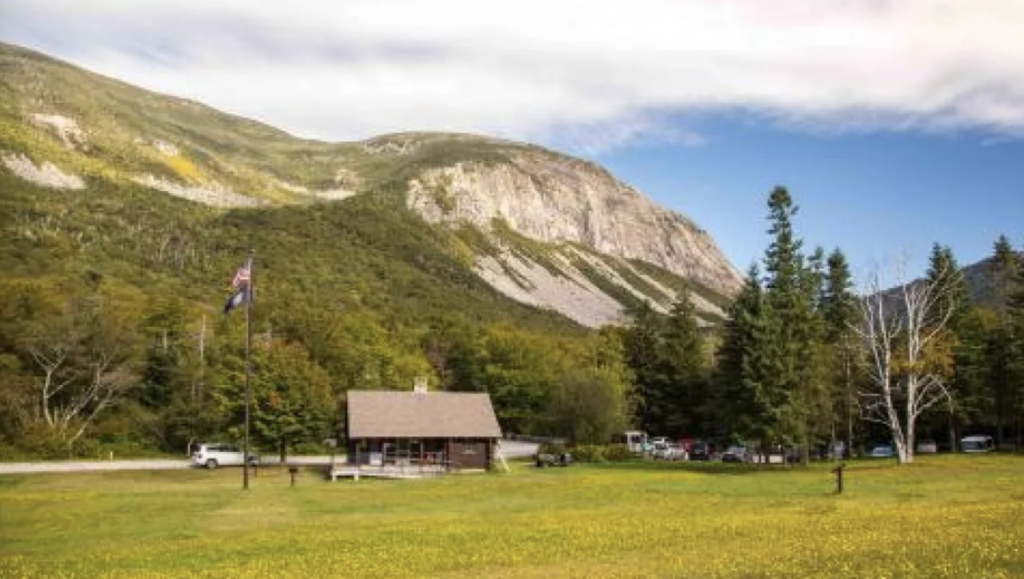 Lafayette Campground
2022 GENERAL INFORMATION
Campground Details
The camping and hiking hub of the Notch is centrally located in the Park at Lafayette Place Campground. It provides a great base from which to enjoy hiking, biking, fishing, swimming, and many attractions in the White Mountains. Information about hiking trails, safety, and the natural and cultural history of the park is available at the cabin near the campground entrance.
A lodge houses a registration desk and offers a selection of camping supplies. Each campsite is wooded and has a picnic table, car parking, and an open fireplace. There are coin-operated showers and a camp store.
Lafayette Campground provides 97 wooded tent sites - 88 are reservable, 7 are for first-come/first-served campers, and 1 is for youth group camping. Reservations for youth groups are required and must be made by calling: 603-271-3556.
The campground is open for reservations from May 20, 2022 - October 9, 2022. Primitive camping is available in the off-season with limited facilities. A pay station is provided for self-registration.
Hours
- Campground is staffed 8am - 9pm daily
- Restroom Facilities and Showers open 24 hours
- Online Reservations are required in advance - No Walk-ins (see reservation details below)
Check-In
- Check in at the camp store window.
- Check In is required PRIOR to going to your site.
- If you arrive after open hours, proceed to your reserved site. Check in the next morning.
Restroom Facilities
- Portable toilets are available 24hrs/day.
- Only 1 person or family group is allowed in bathrooms at one time.
- Restrooms will be cleaned and sanitized on a regular basis.
Camp Store Purchases
- Items will be available for purchase from 8am-9pm.
- Purchase by phone and order will be delivered to your site
- Call: 603-823-9513 to place an order
CAMPGROUND RULES
Pets are prohibited at Lafayette Place Campground.
All trash must be dropped off at the proper receptacles - please follow these guidelines.
Firewood from out of state (NH) is prohibited.
RESERVATIONS
- Online Reservations are required in advance - No Walk-ins
- Reservations: reserveamerica.com
- Do not occupy a site that you did not reserve in advance.
New Hampshire State Parks has partnered with Reserve America to offer our guests a high quality reservation service. The dedicated toll-free number to call to make a reservation through the Reserve America Call Center is: 1-877-nhparks (1-877-647-2757)
Amenities
Beach, Camp Store, Coin Operated Showers, Hiking On-Site, Wooded Camp Sites, Fire Pit / BBQ's, Restroom Faciilties
Contact Information
Franconia Notch, Franconia Notch State Park, Lincoln, NH, USA