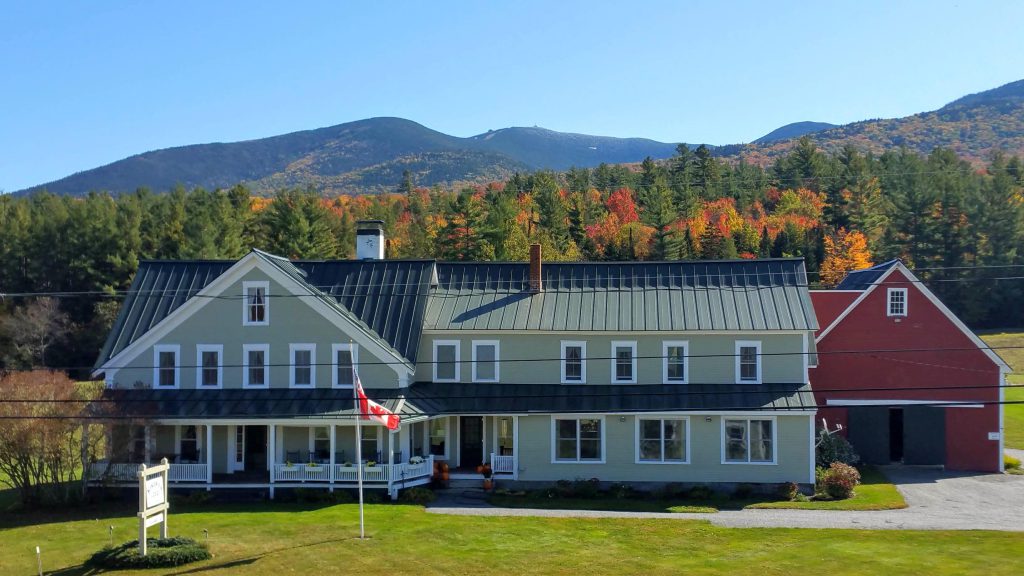 Kinsman Lodge
Our old home in the shadow of Cannon and Kinsman Mountains is, as one guest said, "as comfortable as your old slippers." We await your arrival. Come in the winter for skiing, snowshoeing or hiking and in the spring for the Lupine Festival. Summer finds guests exploring the area by foot, bicycle, or car and sitting on the front porch as the sun sets. And of course, in the fall, Mother Nature paints our trees glorious shades from her palette for all to see whether from the mountain tops as you hike or the valleys as you drive. We are open all year.
The name of this old building has changed a few times and the floor plan has too, but basically it is just as it was when purchased in 1906 by Sue's great grandparents, along with the house next door (where Sue grew up) and 300 plus acres of land for $800! The Lodge was built in the 1860's and has served the public for most of those years. Sue has the guest registers from 1906 on; perhaps you know someone who stayed here. There are 12 bedrooms, 9 used by today's guests. Sue lives here and occupies 1 of the rooms.
The bedrooms are not pretentious by any means, but are comfortable and clean. They share two full baths and a half bath. All bedrooms are on the second floor. The first floor belongs to all. The dining room is bright and large. The fireplace room is a welcome retreat on a cold winter's day and the parlor on the north end has been made more comfortable with the addition of a gas-fired stove. This room also has a TV with satellite dish antenna. In the warmer months, the front porch facing west becomes the favorite spot to sit, or even enjoy a meal. All are welcome to pass through, and even linger, in the spacious kitchen facing Cannon and Kinsman Mountains. The wood stove beckons in the winter. Perhaps one of our greatest compliments, "It's like coming to Aunt Sue's ... house", sums up the atmosphere.
Children are welcome, as are your pets, well mannered we're sure. We would like to know in advance if you plan to bring Fido and/or Whiskers. Pets are not allowed to be left unattended in rooms. We provide free hi-speed wireless internet access via satellite.
We have hosted two wedding receptions, a farewell party, a wedding rehearsal dinner and a family reunion for which the whole house was rented. Our field can accommodate a large tent. Please contact us for more information about whole house rental.
Amenities
Pet Friendly, Weddings / Events / Banquets
Contact Information
498 Easton Valley Rd, Franconia, New Hampshire, USA