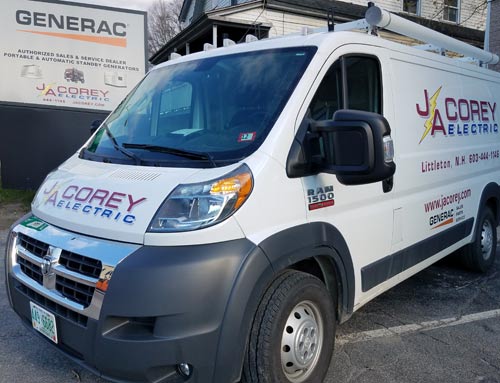 JA Corey Electric
J A Corey Electric has been serving the North Country of New Hampshire and the Northeast Kingdom of Vermont since 1992. Located in Littleton, New Hampshire the business is veteran owned and offers commercial, residential, and industrial electrical services. An affiliation with ABLE Security and certification as an authorized sales & service dealer for both Generac and Winco standby generators extends the offerings of this business.
We service the local area with NH and VT licensed electricians, so you can be assured that our work is up to code. JA Corey is proud to be part of the local community. We're located on Main Street so you know we're here for you.
We've been in business since 1992 and provide service to over 1500 local customers.
JA Corey Electrical contracting service provides:
Commercial, Industrial and Residential electrical lighting and wiring, design and installation
Skilled and licensed electrical contractors
Design-build services
Sign service
Parking lot lighting
Contact Information
276 Main Street, Littleton, New Hampshire, USA