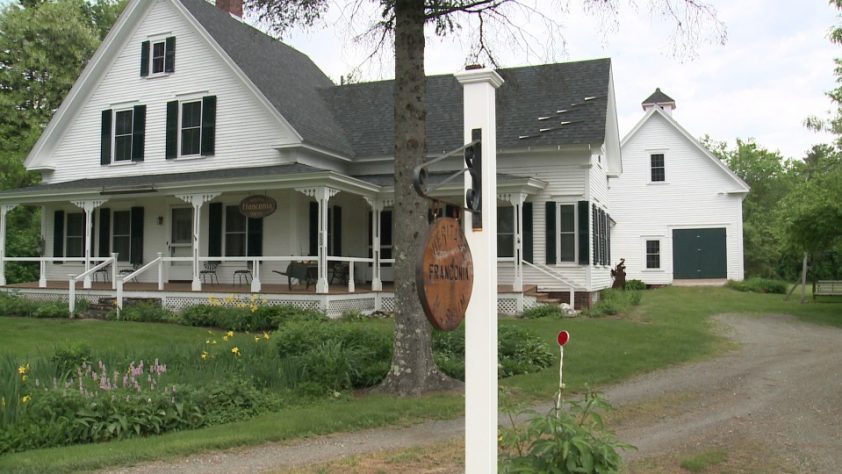 Franconia Area Heritage Museum
The Franconia Heritage Museum is an 1878 farmhouse with attached barns and sheds that reflect life in Franconia since the town's settlement. It is open to the public 1-4 p.m. on Saturdays from Memorial Day through Columbus Day. There is a self-guided tour, and the Museum is free of charge to our visitors. Volunteers are available to answer questions.
The Museum opened in 1998 with an initial collection of 1,500 documents and artifacts preserved by town historian Sarah Nelson Welch and supplemented by other local families who contributed to the Museum. The Museum now contains almost 10,000 items that present a living history of life in a late 1800s New Hampshire farmhouse. Our collection includes a working Victrola, stereoscopic viewers, a rope bed, special-occasion clothing designed, woven, and sewn at home, and histories of the town's buildings, businesses, and grand old hotels. The attached barn contains period tools and farm implements. Upstairs in the Museum is a library and a research room for use by the public.
The 2022 exhibit was titled "C.T. Bodwell – Father of the Flume – His Photographic Legacy." This exhibit, which is located in the museum barn, showcases the photography and postcards of Clare Thomas Bodwell.
The Museum is located at 553 Main Street in Franconia. The Museum is open Saturdays from 1 to 4 pm, and by appointment, from Memorial Day weekend thru Columbus Day weekend.
Contact Information
553 Main Street, PO Box 169, Franconia, New Hampshire