Great Outdoors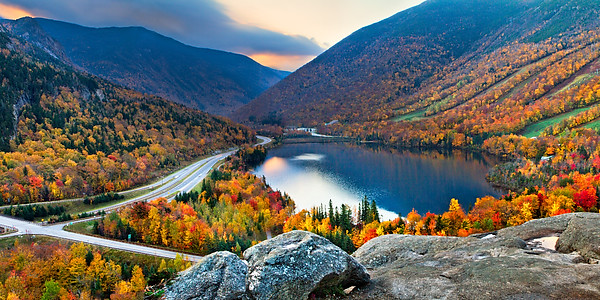 People flock to the Western White Mountains great outdoors all year to enjoy our trees decorated in winter's snow and creature hiding places, the sap buckets and bursting leaf buds in spring, summer's shading spread of lush, rain-fed greenery and the brilliant reds and golds of autumn. The forests of the Whites provide a habitat for wildlife ranging from spotted salamanders to black bear and moose, with no fewer than 184 species of birds to boot.
Flora displays alter with the seasons; some in over abundance in fields while other rare species exist in protected areas for generations of enjoyment. Match this beauty with the full spectrum of spectacular landscape, terrain and mountain cliffs and you have an idyllic setting for a vast choice of recreational opportunities, leisure activities for quiet get-a-ways, and the daring challenge of multi-level sporting areas. Count the ways to enjoy the rush and thrill of the great outdoors in the Franconia Notch Region. Hike it, bike it, swim it, drive it, ski it, whatever the foot board of choice. Discover it, capture it, stay here and love it. Our outdoors encompasses miles and heights filled with magnificent waterfalls, lakes and streams, boulders and rock formations- all formed thousands of years ago during the Ice Ages. Nature is full of fascinating stories that attract attention at a young age and keep us amazed throughout our entire lives. The need to understand, participate and enjoy will draw you back to its generous beauty every season for any reason, again and again.
The White Mountains of New Hampshire is a hiker's paradise. This region of northern New England attracts tens of thousands of hikers every year. The Presidential Range offers hundreds of miles of remote trails, mountain tops and scenic splendor. Below you will find just a sampling of the dozens of hiking trails available to hikers of all levels of experience and expertise.
Steeped in more than 100 years of tradition, the AMC's network of mountain huts provides a unique backcountry adventure for novice and experienced hikers alike. Each hut is a day's hike apart along the Appalachian Trail in New Hampshire's White Mountains. AMC Huts offer mountain hospitality in spectacular locations above treeline or near mountain lakes or waterfalls.
Resources:
White Mountain Lodging - New Hampshire Appalachian Mountain Club
Lonesome Lake AMC Hut - Franconia Notch State Park
A great destination for families, AMC Huts offer a range of "big mountain" adventures and activities for kids of all ages, whether it's your child's first hike or a summer challenge for your teen.
Hiking Safety
There are many hazards while hiking in these rugged mountains: slippery rocks and roots, difficult stream crossings and open ledges. Many trails are steep and rough, so hikers should be in excellent condition. The weather also demands respect: drink plenty of water to avoid heat exhaustion; dress for wind and rain to prevent hypothermia, excessive heat loss from the body; and wait out thunderstorms before traversing open ridges and summits.
Emergency Contacts
Good judgment, common sense, proper gear and clothing, and careful planning should prevent any mishaps in the wilderness. But if an accident or injury should occur, know where you are on the map, send someone to a phone and contact the following for help:
NH State Police: (800) 852-3411
Franconia Notch State Park from Exit 34A: 603-745-8391
Franconia Notch State Park from Exist 34B and C: 603-823-8800
Hiking Trails
All hikers are encouraged to purchase and use the "AMC White Mountain Guide" for full descriptions of all trails. Disclaimer: Although every effort has been made to present accurate details of trail conditions, due to changes by man and nature we expressly disclaim any legal responsibility for the conditions of any trail. Hikers assume the risks inherent in this outdoor activity and must respect the legal and safety guidelines for a safe visit.
Hiking Trails
Easy Trails in the Area
Bald Mountain-Artist Bluff Franconia, NH
Distance: 1.5 miles
Rating: Beginner
Spectacular view of Franconia Notch with minimal effort. Take I-93 north to Exit 34C, take a left on Rte. 18 pass Echo Lake and park on right across from Cannon Mountain. Trail starts in back left corner of Cannon Mountain parking lot. The trail is well traveled and has been recently updated with new signage. View topical map.
Flume-Pool Loop-Franconia Notch (fee charged)
Distance: 2.2 miles
Rating: Beginner
Access this trail from the Flume Gorge Visitor Center, Exit 34A off I-93. Maps and details are provided at the Center.
Fox Hill Park- Franconia
Distance: 1 mile
Rating: Beginner
Beautiful views of nature and the Gale River
Go on Rte. 18 south towards Cannon Mountain. Take first left after intersection of Rte. 116 & Rte. 18, Dow Rd. Go straight across the bridge, Fox Hill Park is on the left about 2 miles. There are two trails; the Scenic Trail and the Gale River Trail.
Franconia Notch Recreation Trail - Franconia Notch State Park
Distance: 9 miles
Rating: Beginner
Beautiful views of the Notch. This 9 mile paved bike path goes through Franconia State Park and passes Echo Lake, the Old Man of the Mountain, the Basin, and the Flume Gorge which are all main attractions of Franconia Notch state Park in the western White Mountains. This is a multi use trail including snowshoeing, cross country skiing & snowmobiling. To access the path in the north, the parking lot and bike path starts at the lot on the right just after you enter Rte. 3 north to Twin Mountain at Exit 35 from I-93 north. To start the trail from the south, you can park at the Flume Gorge parking lot at Exit 34A off I-93. Go all the way over to the left and you will see the start. The best way to enjoy this trail is to start at one end and leave your car at the other parking lot, north to south. To do the trail round trip, it is best to start at The Flume parking lot. Bike rental places are available at Exit 34B at the Aerial Tramway Welcome Center. Resource: Recreation Trail Map - FNSP
Hiking and Nature Trails
The Rocks Estate
Route 302 off Exit 40 from I-93, Bethlehem
Walk, hike, snowshoe or cross-country ski the nature trails at Bretzfelder Memorial Park and The Rocks Estate, open year-round and dogs are welcome. No wheeled or motorized vehicles are allowed. See Trail Information for maps. Unforgettable outings can be scheduled for teachers and students at these North Country properties of the the Society for the Protection of New Hampshire Forests.
Kilburn Crag - Littleton
Distance: 1.8 miles
Rating: Beginner
Nice view of the Presidential range and the Town of Littleton. An easy trip to a viewpoint overlooking the town of Littleton and many high peaks. Take Rte. 93 north to Exit 43 and take a right on Rte. 135. At the intersection of Rtes. 18/135 take a left. About a half mile on the left, a sign designates the parking area.
Pemi-Trail - Franconia Notch
Distance: 4 miles one way
Rating: Beginner
Lovely views of the Cannon Cliffs, Profile Lake, The Basin & Pemigewasset River. You can start in 4 places: Old Man Historic Site (Exit 34B) right parking lot, the parking lot south of Profile Lake, Lafayette campground parking Lot, the Basin parking lot, or the Liberty Springs parking area. It roughly parallels the river, the highway and the bike trail.
More Challenging Trails in Area
Bald Peak - Route 116, Easton
Distance: 4.6 miles
Rating: Intermediate
Beautiful view of the Easton valley and Vermont. Take I-93 north to Exit 38. Take a left, go straight at the lights and follow Rte. 116 for 4.4 miles. Trail is on the left beside a green sign marking the Easton/Franconia town lines. There are no trail signs; it starts as a road with 2 stone pillars and a chain entrance. This trip goes to an open ledge jutting out of the side of Kinsman Mountain. At mile 2.1 you will come to the Kinsman Flume Trail (do not take this trail in the winter), stay left. Shortly after, you come to the spur trail to Bald Peak branching off to the right. The Kinsman Trail continues to the left but is for experts only.
Basin-Cascade Trail - Franconia Notch State Park
Distance: 1 mile
Rating: Intermediate
Up close to two different falls, Kinsman & Rocky Glen with a great view of Mount Liberty. Take I-93 north to the Basin between Exit 34A and 34B. Leaving the Basin area, the trail ascends near to Cascade Brook and a beautiful series of cascades leading in a half-mile to Kinsman Falls and on to Rocky Glen Falls. Soon the brook is crossed on a log-bridge and is joined by the Cascade Brook Trail. The trail gets rougher after this on your way to Lonesome Lake.
Cascade Brook Trial - Franconia Notch State Park
Distance- 3.1 miles
Rating: Intermediate
Beautiful views of nature and the Notch. Take I-93 north to Exit 34A. Park at the Flume parking lot and take the Whitehouse Trail for .8 mile to join the Cascade Brook Trail. At 1.5 miles this joins the Basin-Cascade Trail. In another .5 mile, the Kinsman Pond Trail goes to the left. This leads to Lonesome Lake Hut.
Coppermine Trail to Bridal Veil Falls - Route 116, Easton
Distance: 5 miles round trip
Rating: Intermediate
Trail to the beautiful Bridal Falls. Take I-93 north to Exit 38, take a left on to Rte. 116. At blinking lights, go straight, follow Rte. 116 for 3.4 miles. Look for Coppermine Rd. on the left. Trail starts off the road up ahead. Trail follows Coppermine Brook. About 2 miles in, the trail crosses a bridge. Bridal Veil Falls is .2 miles after the bridge.
Falling Waters Trail Franconia - Notch State Park
Distance: 2.6 miles round trip
Rating: Intermediate
Great hike viewing of 3 waterfalls- Stairs, Swiftwater & Cloudland. Start at Trailhead parking lot on the right on I-93 north between Exits 34A & 34B or park at the Lafayette Campground and cross under the Interstate. This is one of the most popular trails in the area. This trip goes only as far as the ledges, hanging on the edge of the deep ravine of Walker Brook. Going any further is for experts only. At .2 miles, Falling Water Trail goes to the right, Old Bridle Trail goes straight. This trail follows Dry Brook. You will pass 3 waterfalls: Stair Falls, Swiftwater Falls, and Cloudland Falls. Follow the trail to the top of the falls for a beautiful view. Good point to turn around, rest of the trail goes tothe very difficult Little Haystack.
Indian Head Trail - Route 3, North Lincoln
Distance:1.9 miles
Rating: Intermediate
Great Views up the Franconia Ridge and down toward Lincoln. Take I-93 north to Exit 33, Rte. 3 north. The path begins at a parking lot on the left off Rte. 3 and follows an old logging road for the first 1/4 mile through the woods. The trail then heads north, climbing more steeply and passes below the cliffs of the famous "Indian Head". It is a short From the junction with Mt. Pemi Trail, it is a short distance to the summit.
Lower Georgiana Falls - Route 3, North Lincoln
Distance: 1.6 miles round trip
Rating: Intermediate
Trail to the base of Georgiana Falls. Take Exit 33 off I-93 head north on Rte. 3 for .2 miles, turn left on Hanson Farm Rd. In .2 miles when the main road bends right you go straight to a plowed parking area. Go under the Interstate and follow the signs for Georgiana Falls, a yellow blazed trail that changes to red blazes. Stay close to the brook.
Lonesome Lake - Franconia Notch State Park
Distance: 3.0 miles round trip
Rating: Intermediate
Trail to pristine mountain lake with great views of the Franconia Ridge. Park at Lafayette Campground parking area off I-93 south. Trail starts at the left side of the parking lot. Follow the yellow blazed Lonesome Lake Trail. After a mile, High Cannon Trail splits to the right. Stay on Lonesome Lake Trail, as it now becomes steep. When you get to the top, take the Cascade Brook Trail along the south side of the lake.
Mount Pemigewasset Trail - Franconia Notch State Park
Distance: 3.6 miles round trip
Rating: Intermediate
Great Views up the Franconia Ridge and down towards Lincoln. Start at the Flume parking lot (Exit 34A off I-93) left side. Follow bike path until you find the sign for the Mount Pemi Trail on the left. Follow the blue blazed trail. This is a ledge with beautiful views. This is a major drop off so be very careful of your footing.
Old Bridle Path - Franconia Notch State Park
Distance: 4 miles round trip
Rating: Intermediate
Great views of the Notch. Start at Trailhead parking lot on the right on I-93 north between Exits 34A & 34B, or park at the Lafayette Campground and cross under the Interstate. This is one of the most popular trails in the area. At .2 miles the Falling Water Trail goes to the right; the Old Bridle Trail goes straight. At 1.9 miles you will emerge on the first of two spectacular open ledges. The next is 100 feet further. This might be a good place to turn around since the rest of the trip up Agony Ridge to the Greenleaf hut is very difficult.
Most Difficult Trails in the Area
Appalachian Trail - The AT passes thru Franconia Notch as it winds its 2100 mile way from Georgia to Maine. It coincides with segments of the Kinsman Ridge, Fishin' Jimmy, Cascade Brook, Liberty Springs, Franconia Ridge and Garfield Ridge Trails. The distance from Gordon Pond Trail to Mt. Garfield is 23 miles.
Fishin' Jimmy Trail
Distance: 2.0 miles
Time: 1 hour 40 minutes
This path has some rough footing and steep ascents. It connects the Lonesome Lake Hut with Kinsman Pond Shelter.
Flume Slide Trail
Distance: 3.3 miles
Time: 3 hours
Elevation gain 2700'
The path departs from Liberty Spring Trail 0.6 mi. from its start at Whitehouse Tr. The first mile ascends moderately, then steepens, finally becoming very steep, wet and dangerous. Watch for loose rocks on the slide. Avoid descent of the trail, especially with heavy packs. There are excellent views at the top near the summit of Mt Flume.
Green Leaf Trail
Distance: 3.8 miles
Time: 3 hours 40 minutes
Elevation gain 2200'
This trail climbs steeply out of the Notch to Greenleaf Hut, with occasional views. Beyond here the route is exposed to storms on Mt. Lafayette. Eagle Pass is reached in 1.5 mi./ 1 hr. 20 min; Greenleaf Hut, 2.7 mi./ 2 hr. 30 min; Mt Lafayette, 3.8 mi./ 3 hr. 40 min.
High Cannon Trail
Distance: 2 miles
Time: 2 hours
The trail leaves the Lonesome Lake Trail 0.4 mi. from Lafayette Campground and climbs steeply up the south side of Cannon Mountain. The Dodge Cut-Off joins it at 0.8 mi. There are many outlooks over the lake and Notch beyond here, but the path is rugged and uses a ladder at Cliff House rock. From its end at the Kinsman Ridge Trail, it is 0.4 mi./ 20 min. to the summit.
Kinsman Pond Trail
Distance: 2.5 miles
Time: 2 hours
Elevation gain 1300"
This rough, wild and very beautiful trail leaves the Cascade Brook Trail (2 mi from its start), soon crosses the brook and enters lush forests. The trail is wet in many places and climbs steadily; Kinsman Pond is reached at 2.1 miles.
Kinsman Ridge Trail
Distance: 17 miles
Time: 12 hours
This trail traverses the entire western half of the Notch passing over several peaks; much of it is part of the Appalachian Trail. Beginning at the tramway parking lot in the Notch, Kinsman Ridge Trail climbs steeply 2000' up Cannon Mountain. There is a side path at 1.5 mi. leading to excellent views down into the Notch and across Franconia Ridge. Further along its length are fine views from the summits of the two Kinsmen's and Mt. Wolf. Distances from tramway parking area: Cannon Mountain, 2 mi./ 2 hr; Lonesome Lake Trail, 3 mi./ 2 hr. 30 min; Kinsman Junction (AT), 5.4 mi./ 4 hr. 30 min; North Kinsman, 6 mi./ 5 hr; South Kinsman, 7 mi./ 5 hr. 35 min; Harrington Pond, 8 mi./ 6 hr. 15 min; Eliza Brook Shelter, 9.5 mi./ 7 hr; Reel Brook Trail, 10.5 mi./ 7 hr. 40 min; Gordon Pond Trail, 13.6 mi./ 9 hr. 30 min; Rte. 112 at Kinsman Notch 17 mi./ 12 hr.
Liberty Spring Trail
Distance: 3 miles
Time 3 hours
Elevation gain 2700'
From the Whitehouse Trail, 0.8 mi. north of the Flume parking area, the Liberty Spring Trail climbs east as part of the Appalachian Trail to join the Franconia Ridge Trail near the summit of Mt. Liberty. Distances: Flume Slide Trail- 0.5 mi./ 35 min.; Stream crossing- 1.1 mi./ 55 min; Liberty Spring Tent Site- 2.6 mi./2 hr. 35 min.; summit of Mt. Liberty- 3.2 mi./ 3 hr.
Mt. Kinsman Trail
Distance 3.7 miles
Time: 3 hours 20 minutes
Elevation gain 2800'
Trail leaves Rte. 116 about 4 miles south of Franconia and follows a logging road for the first mile or so. At 2.1 mi./ 1 hr. 50 min. from the start, a side path leads west 0.2 mi. to fine views from Bald Peak. The next 1.5 mi. are moderate, with a few steep scrambles, before Kinsman Ridge Trail is reached 0.2 mi. from Kinsman Jct.
Old Bridle Path
Distance: 3 miles
Time: 2 hours 45 minutes
Elevation gain 2400'
The trails leaves from the Lafayette Place parking lot on the Interstate, heads east, then north up "Agony Ridge" to Greenleaf Hut.
Skookumchuck Trail
Distance: 4.4 miles
Time: 3 hours 45 minutes
Elevation gain 2800'
From the parking area on Rte. 3 at the north end of the Bike Path, this trail climbs thru the woods to the Garfield Ridge Trail, 0.7 mi./ 45 min. north of Mt. Lafayette.
Vacationers can head out to explore the beautiful back roads of the White Mountains or travel the rural routes throughout Franconia, Easton and Sugar Hill and beyond. Several bike clubs are indigenous to this area and will often assist visitors and vacationers over well-established bike routes, or share more leisurely cycling paths with families. Several miles of bike paths run throughout Franconia Notch State Park. Rentals and maps are available at Franconia Sport Shop or at Cannon Mountain. Biking maps of New Hampshire, published by NH Department of Transportation, are available at the Franconia Notch Chamber of Commerce Welcome Center.
Franconia Notch Bicycle Path
This 9 mile paved bike path goes through Franconia State Park, passes Echo Lake, the Old Man of the Mountain site, the Basin, and the Flume Gorge. One of the main attractions of the Notch, it is a multi use trail for biking, walking, in-line skating & snowmobiling. Biking this trail offers an opportunity to stop and visit many of the State Parks other attractions; perhaps combining biking and swimming by stopping at Echo Lake and the Basin. Or combining biking with hiking at Lafayette Camp Ground where one can join the Lonesome Lake, Old Bridle Path to Mt Lafayette, and Falling Waters trails to Little Haystack. The Basin joins the Cascade Trail to Lonesome Lake & Mt Kinsman, or the Liberty Springs Trail to Mt Liberty. You can also combine biking with visiting The Flume.
To access the path in the north the parking lot and bike path start is at the lot on the right just after you enter route 3 north to Twin Mountain Exit 35 from Rte 93 north . To start the trail from the south you can park at the Flume Gorge parking lot Exit 34A off Rte 93, go all the way over to the left and you will see the start. The best way to enjoy this trail it to start at one end and leave your car at the other parking lot, north to south. The best way to do the trail round trip is to start at The Flume parking lot There are bike rental places in both Lincoln & Franconia.
Lincoln Woods Trail
This ride's general location is on the Kancamagus Highway (NH 112), east of Lincoln. Scenery includes Franconia Falls, just off the trail. This very popular trail follows the west bank of the Pemigewasset River along the old East Branch & Lincoln Railroad bed. On the east bank is East Branch Road, a popular day-hiking spot for summer tourists. This ride ties together with a portage across the river.
Lincoln Woods Trail (The Wilderness Trail)
Riding through mixed forest, there are views of the East Branch of the Pemigewasset River and the White Mountains. The return side of this loop follows a section of the old East Branch and Lincoln logging railroad bed. An excellent waterfall and swimming hole are accessible via a short side trip. Tread: 2.9 miles on jeep trail; 0.6 mile on singletrack; 2.9 miles on doubletrack (old logging railroad bed). Location: 5 miles east of Interstate 93, exit 32, just off Kancamagus Highway (New Hampshire 112) in White Mountain National Forest
Cherry Mountain Loop
A long day awaits voyagers along the Cherry Mountain Loop. Nearly 30 miles of distance combines with a heavy sum of gravity to keep you on the bike for many hours. You'll go up, up, up, and down much too briefly. The aerobic challenge comes of course from the climbing, and though singletrack trail skills won't come into play along the pavement and maintained gravel route, long, steep descents demand the ability to ride within your limit. And speaking of limits, watch the speed limit when falling down Cherry Mountain Road and the road through Jefferson Notch, for there's bound to be oncoming car traffic. Trail Surface: Maintained gravel roads and pavement
North of The Notch
Mountain bike paths crisscross the entire North Country. Littleton has excellent multi-use trails maintained by the local snowmobile club that connect to all other trails throughout the region. A map of their trails may be obtained from the Littleton Area Chamber of Commerce.
The White Mountain National Forest
Most of the National Forest is open to biking. Many old roads are excellent for mountain bikes. The Forest Service does ask that bikers avoid muddy trails and stay on designated roadways. The White Mountain National Forest Bike Map is available at the Visitors Center in Lincoln.
For additional trails go to www.nhtrails.org.
Franconia Notch State Park offers all you need for your boating and fishing pleasures. Boat rentals are available at Echo Lake Beach, Memorial Day through Labor Day. Echo Lake and Profile Lake are super fishing spots. Visitors can also explore our many rivers and streams throughout the area. A NH State Fishing License is required. However, there are no vendors in the area. Fishing licenses are available on-line here directly from the New Hampshire Fish and Game Department. Licenses may be obtained for the season or 1-day for NH residents. Non-residents may obtain a 1-day, 3-day or 7-day license as well as a full season. You may boat or canoe at all fishing places.
Clark's Guiding Adventures
40 South Main Street, Lisbon, NH 03585
Tel: 603-838-5175 | 603-616-1030
Email: Chris@clarksguidingadventures.com
Clark's Guiding Adventures a variety of fly-fishing experiences. Wade in the waters of northern New Hampshire or enjoy fishing on the water from Chris' fully-equipped guide boat. Packages include a full day of lessons and instructions designed to develop skills and inspire learning. Lessons based on previous experience and skill level. Chris Clark grew up along the banks of the Ammonoosuc River in Lisbon, NH and has been fly fishing since he was 12 years old. Trained in Montana and certified in NH to practice as a licensed fishing guide in 2009, Chris has worked at a variety of fishing camps in the North Country. He is currently serving on the board of directors for the Ammonoosuc Chapter of Trout Unlimited, and was awarded a grant to study the art of classic Atlantic Salmon fly-tying.
Trout Fishing
Profile Lake
Trout fishing in this clear mountain lake is one of the more aesthetic pleasures of Franconia Notch. Fly Fishing Only at Profile Lake. You may launch a boat at the south end from the parking lot.
Echo Lake
You may launch a boat at the left side of the Cannon Tramway parking lot.
Pemi River
Find a secluded spot by hiking the trail.
Gale River
Runs through the village of Franconia (along route 18) leading into Coffin Pond.
Streeter Pond
Take a left off Rte 116 heading north on Streeter Pond Rd. Boat launch is a left after you pass the pond.
Connecticut River
93 north to exit 44 Rte 135, Head north follows the river
Moores Reservoir
93 North to exit 44 Rte 135, head north and launch is on the right
Ammonoosuc River
Flows through Bethlehem and Littleton follows Rte 302 to Lisbon, Bath and Woodsville
Wild Ammonoosuc River (tributary)
Follows Rte 112 west to east from Bath on Rte 302, through Kinsman Notch to the Kancamagus Pass. Stream fishing from shore only, fishing pools under three covered bridges in Bath and Swiftwater and passes the Ammonoosuc Fish & Game Club in Swiftwater.
Pearl Lake
Rte 177 north take a left onto Pearl Lake Rd
Ogontz Lake
Rte 302 south to Tinkerville Rd on left
Bass Fishing
Forest Lake
Left on Forest Lake Rd off rte 116 heading north out of Littleton. 2 miles down on left.
Connecticut River
93 north to exit 44 Rte 135, Head south follows the river
Burns Pond
Left off of Rte 116 north out of Littleton, pond on right when you take the left on Forest lake Rd.
Moores Reservoir
93 North to exit 44 Rte 135, head north and launch is on the right.
Partridge Lake
93 north to exit 43, follow rte 135/18 north to a left on Partridge Lake Lane.
Pearl Lake
Rte 177 north take a left onto Pearl Lake Rd.
Ogontz Lake
Rte 302 south to Tinkerville Rd on left
Within an hour's drive in any direction, there are more than a dozen historic covered bridges ; many that maintain daily traffic and routes from one side of villages to another. Scenic, as well as historic; drives through or stopping for pictures, one is easily reminded of the importance of these to the history and culture of New Hampshire. Truss designs vary. Many bridges in the White Mountains utilize Paddleford trusses, which were originated by Peter Paddleford of Littleton. Each covered bridge is unique and holds many special and scenic features.
Bath, New Hampshire is known as the "Covered Bridge Capital" of New England, and quite possibly of the country. Bath is a small village with a population of only 790 residents, but tiny as Bath is, they can brag about 3 very special covered bridges in their village.
Bath Village Covered Bridge
Location: Route 302, Bath, NH
The current structure is the fifth bridge to stand on this site. The first was constructed in 1794 and was demolished by a flood It was replaced in 1806 and demolished by floods again in 1820 and 1824. This replacement was destroyed by fire in 1830. The current bridge was completed in 1832 witrh the addition of two stone abutments and piers. The Bath Bridge is listed on the National Register of Historic Places and is the longest covered bridge in NH at 400 feet. It is also the oldest working covered bridge in existance today as it is the only traffic connection to both sides of Bath Village within 10 miles either way. The bridge is posted as a one lane bridge for six tons, passenger cars only. It's location is beside the oldest working general store in America (The Brick Store) and the cornerstone of the historic village square on Route 302.
Bath-Haverhill Covered Bridge
Location: This is the oldest operating covered bridge in America, and is the oldest authenticated covered bridge in New Hampshire. It was built with a separate covered passageway for pedestrians, which very few covered bridges had. Built in 1829, it is the first and only bridge to ever be built at this site. The bridge is located one-quarter mile north of U.S. Route 302 in Woodsville Village on N.H. Route 135 over the Ammonoosuc River. The style is salt box type; town lattice truss with arches (two pan). The bridge is 256'3" long and has two spans of 104'0"; and 120'9". It has an overall width of 26'8", a roadway width of 14'2", and a maximum vertical clearance of 10'11". The bridge is posted for three tons, passenger cars only.
Swiftwater Covered Bridge
Location: Route 112 E. of Route 302, or W. of Exit 32 off I-93
Built in 1849, this is one of the most picturesque covered bridge in all of New England. Located on a very picturesque portion of the river, the famous covered bridge overlooks Swiftwater Falls, where the Wild Ammounoosuc River cascades 15 feet over rocky ledges and into a series of deep, cool pools. Along the length of the Swiftwater covered bridge are viewports allowing pedestrians to take in views of the Wild Ammonusuc River both up and down stream. On any summer day, dozens of people of all ages enjoying a swim at the falls just downstream. Relaxing in the sun on the open ledges beside cold clear mountain water, the view from this area is one of the best of any of the covered bridges. Of Paddleford Truss construction, The Swiftwater Covered Bridge is maintained by the town of Bath, NH and one of only 20 remaining Paddleford Truss bridges in the world. The bridge is 158-feet 4-inches long with clear spans of 77-feet 6-inches and 57-feet 6-inches, and is 21-feet wide. The actual roadway width is 14-Feet 6-inches with a maximum verticle clearance of 12-feet 9 -inches. This Swiftwater Covered Bridge is the fourth covered bridge to cross the Wild Ammonoosuc River at this location. The first was built in 1810, carried away in 1818 by a flooding Wild Ammonusuc River. The second Swiftwater was destroyed by another flood in 1828. A third covered bridge at Swiftwater was erected in 1829. In 1849 the bridge was dismantled and replaced by the current fourth Swiftwater Covered bridge. Listed on the National Register of Historic Places, one can enjoy more fully the beauty of the location, drive across the bridge and park on the large dirt parking on the left. A short path leads through the underbrush and out onto the ledges and rocky beach of the Wild Ammonoosuc River.
Clark's Bridge, North Woodstock, NH
Location: East of U.S. Route 3 in Clark's Trading Post on Clark's Short Steam Railroad
Clark's Bridge was originally built in Barre, Vermont, in 1904 as a part of the Barre Railroad, to span the Winooski River. In 1960 the railroad line and the covered bridge were abandoned. The bridge was dismantled in East Montpelier and taken to its present site. The bridge was reassembled on dry land next to the Pemigewasset River. It was positioned over the river in 1965 and is still used as a part of Clark's Short Steam Railroad. It appears to be the only Howe railroad bridge left in the world. Howe Truss; 116 feet long.
Sentinel Pine Bridge, Lincoln, NH
Location: in the Flume Gorge, Franconia Notch State Park
This bridge, built in 1939, is located in Franconia Notch State Park and it carries a hiking trail over the Pemigewasset River just a short distance from the Franconia Notch Visitors Center. It is considered a "romantic" structure, meaning that it is an authentic reproduction of a historic covered bridge, but built of materials other than timber, with no truss or arch. The covered portion of the bridge is 60 feet long. This bridge along with the Flume Bridge are all part of some of the natural attractions that make up the area generally known as the Flume.
Flume Bridge, Lincoln, NH
This c. 1886, 50-ft. bridge spans the Pemigewasset River in Franconia Notch State Park. Of Paddleford truss construction, it has a hiker's walkway on its north side (admission charged).
There are several golf courses open to the public within 25 minutes driving time from Franconia. Your Innkeeper or the Welcome Center on Main Street in Franconia can help you with specific information.
Bethlehem Country Club
1901 Main Street, PO Box 445
Bethlehem, NH 03574
603-869-5745 - Off-season inquiries (11/1/2012 - 04/14/2013 - 603-444-3419
bccgolf@roadrunner.com
Bethlehem Country Club was designed in the days when hickory shafted clubs were the norm. A Donald Ross design (his first in New Hampshire), at a little under 6000-yards, BCC is a relatively short layout when compared to some of today's 7200-yard monsters. However, the small "Rossian" greens with their challenging topography provided plenty of challenges for the novice and expert alike. BCC has hosted tournaments for the NHPGA, NHGHA and NHWGA. We are proud of our ability to offer a championship venue for the top levels of competition in our region, yet remain the type of playable golf course that the novice and purely recreational golfer can feel comfortable on. Outstanding playing conditions on a traditional, timeless design make for a memorable golf experience at Bethlehem Country Club. BCC is proud of its tradition of offering affordable golf, coupled with outstanding playing conditions; clearly the "people's choice" in the White Mountains region with a large active seasonal membership that enjoys an assortment of golf tournaments while offering plenty of tee times for guest or tourist play. Our reputation of friendly customer service is built from our commitment to make your each and every visit to BCC an enjoyable one. The BCC Pro Shop can supply all your golfing needs. Clubs, bags, balls, shoes and more are available from all the major brands, and special orders are always welcome. The Clubhouse offers breakfast, lunch and dinner in its restaurant, and day-long snacks and beverages.
Mountain View Grand Resort & Spa
101 Mountain View Road, Whitefield, NH 03598
Golf Pro Shop: 603.837.0076
Tee up and enjoy the challenging rounds complete with impressive natural terrain and top-notch playing conditions. Named one of the best 25 courses in New England by Links magazine, this picturesque course is open to guests as well as the general public. Surrounded by amazing New Hampshire mountain views, you may have trouble concentrating on your game. But we think you'll do just fine. Mountain View Grand Golf Course will open for walkers on May 9th, and will open for carts on May 17th. Hours of operation are 7:00am - 6:00pm. Times are weather permitting and subject to change. Contact the resort for current course conditions and details. Features: 9 holes of challenging mountain terrain meticulously manicured greens and fairways, 360-degree views of the White Mountains, Casual meals and snacks at the Club House for during and after the game. PowerPlay Golf certified venue, Club rentals available, Cart rentals, Open to the public Interested in becoming a member at Mountain View Grand Golf Course? Stop by the Pro Shop or click on our New Membership Application Form. Junior Membership is for ages 17 and under. Golf Midweek/Twilight Membership is for Monday through Thursday and after 3:00 p.m. on Friday, Saturday, Sunday and holidays.
Omni Mount Washington Resort
310 Mt Washington Hotel Rd
Bretton Woods, New Hampshire 03575
Director of Golf, John Pawlak, PGA Professional
Golf Retail Manager, Sean Cottrell
(603) 278-GOLF (4653)
The Grille- (603) 278-8914
mwgolf@omnihotels.com
The Mount Washington Course was voted "Best Course You Can Play" in NH by Golfweek Magazine in 2009 through 2013 and has hosted four New Hampshire Opens as well as the New England Open Championship in September 2010. Omni Mount Washington Resort will host the New Hampshire PGA Pro-Lady Championship on July 14, 2014. More than 25 PGA golf professionals and 75 female golfers from New Hampshire will be attending. In 2015, Omni Mount Washington Resort is also scheduled to host the New Hampshire State Amateur Championship. The spectacular grounds of New Hampshire's Omni Mount Washington Resort offers an award-winning 18-hole and a 9-hole championship golf course- Mount Washington Course (18 holes - Par 72 - 7,004 Yards) and Mount Pleasant Course (9 Holes - Par 35 - 3,215 Yards). Greats like U.S. Pro Golfer Gilbert Nicholls, Golf Course Designer Alex Findlay, British Golf Champions Harry Vardon and J.W. Taylor, and U.S. Open Golf Champion Willie Anderson have all played this historic par 35 course. Advanced tee times encouraged, and may be made by calling (603) 278-4653 (GOLF). Appropriate Attire required: Bermuda shorts or slacks for men. Bermuda shorts, skirts or slacks women. No denim, sweatpants, "cutoffs" or short-shorts are permitted. Shirts with collars and sleeves are required for men and are expected to be tucked in.
Once the best mode of travel and livelihood companion of the hard-as-granite early settlers, horses remains popular in rustic Northwestern New Hampshire as work horses on farms and forests, but more so for recreation and sporting. Horseback riding is an easily attained skill for enhancing vacation adventures, offering occasions to explore the great outdoors from a very different better vantage point with another creature- naturally.
The Franconia Notch Stables
Route 116 at The Franconia Inn, Franconia, NH
Tel: 603-823-5058.
franconiastables@gmail.com
The Franconia Notch Stables offer hourly horseback tours 7 days a week on a regular schedule, but we are happy to accommodate customer needs earlier or evenings by request. Tours are one hour excursions through fields and forests as it looks onto Mt. Lafayette, Kinsman Ridge, and Cannon Mt, with other exquisite mountain views. A fan favorite is crossing through the beautiful Hamm Branch River where your horse may stop for a drink. Keep an eye out for local wildlife Long the trail and riverside. Tours are walking only; beginner friendly and a gentle ride. Children must be 8 years old to go on our 1 hour tour. For children 7 & under, we offer a 5 minute horseback ride led by lead. Private rides available upon request (depending on day/season/availability). Our private rides allow experienced riders to do some trotting and have the pleasure of the trail all to themselves. Reservations requested.
Sleigh Rides with Franconia Notch Stables
Beginning in mid-December, our majestic sleigh rides are the perfect addition to your winter get-away. Our traditional one-horse sleigh holds up to 6 adults comfortably for group rides, (children under 3 ride free), or private sleigh for two. An abundance of cozy blankets provided. Feel free to bring hot cocoa or any other warm, special treats. Our rides are roughly 30 min through field and along beautiful wood line with snowy mountain views. Reservations (usually) a must.
Directions: Exit 38 off I-93, follow the sign to Route 116 (left). Go straight thru the blinking lights over the bridge. This is Route 116 straight ahead 2.5 miles on the right.
Other stables and horseback riding are available at the Omni Mount Washington Resort at Bretton Woods, and the Mountain View Grand in Whitefield. See Destination Resorts.
This region offers a wide variety of lakes and rivers for kayaking and canoeing opportunities. Many places offer rentals of both including availability at Echo Lake. Kayaking guided tours are available at the following site.
Still Waters Run Deep Kayaking
376 Coppermine Road, Monroe, NH 03771
603-638-3017
info@stillwatersrundeepkayaking.com
We offer guided kayaking adventures on the quiet waters of New Hampshire and Vermont. Bring the whole family or come with a group of friends for an unforgettable experience. Explore the beauty of New Hampshire's White Mountains and the breathtaking Green Mountains of Vermont. All are designed for you to experience nature like never before. Consider it a chance to reconnect with your body, soul and mind in order to lead a more present, centered life. Reserve a tour by speaking with us directly by phone or e-mail. We are fully insured and our tour guides are trained in Kayak Safety and Rescue by the Eastern Mountain Sports Kayak Instructor School. Our custom tours and group rates are available for groups of 2 to 6. All tours include equipment, transportation to and from the water or trail, professional guides, basic kayaking instruction, and lunch.
Opportunities for canoeing and kayaking around area rivers, lakes and ponds are listed beow and rated as follows:
River ratings: (F) Flat water; (Q) Quickwater; (I) Very Easy; (II) Easy; (III) Medium; (IV) Difficult; (V) Expert; (VI) Extreme
Ammonoosuc River
Littleton-Woodsville, put in below dam Take out at covered bridge, 24.5 miles. Best at high waters Quick water(some current) to level III(medium)
Connecticut River
Moore Dam Reservoir to Woodsvile NH
Put in below Moore Dam take out at bridge in Woodsville, 34 miles. Must portage around 3 dams,F-II
Gale River, Hamm Branch
Franconia, put in below bridge on Rte 116 and takeout at Jesseman Rd Truss bridge,8.5 miles. Level I,II Best in high water
Echo Lake
Rte 93 exit 34B Tram Exit. Launch is in left side of parking lot. F,Q
Profile Lake
Rte 93 south, parking lot just south of Profile Lake,launch on left F,Q
Streeter Pond
Take a left off Rte 116 heading north on Streeter Pond Rd. Boat launch is a left after you pass the pond,F,Q
Pearl Lake
Rte 177 north take a left onto Pearl Lake Rd F,Q
Long Pond
Benton, Rte 166 south, left on Rte 112, right on Rte 116,first left on North abd South Rd(dirt) Pond on left F,Q
Moore Dam Reservoir
Littleton, Rt3 93 north to exit 44, Rte 135 north, launch on left F,Q
Pemigewasset River
Woodstock - West Campton, put in at parking lot, take out at bridge near gravel mill, 13miles Q,I,II
For other places to go kayaking & canoeing in the region go to:
www.Trails.com
www.Riverfacts.com
Experienced rock climbers are challenged by the 1000' vertical cliffs on Cannon Mt and lesser outcroppings in Franconia Notch such as Artist's Bluff, Eagle Cliff and Indian Head. No one should attempt any technical climbing unless under the instruction of a climbing school or with an experienced guide. Climbers must register before and after their climbs at the trailhead parking lot by the south end of Profile Lake. There is an excellent guidebook for mountaineers by Ed Webster called "Rock Climbs in the White Mtns".
Local Climbs
Falcon Alert
All climbers on the Eaglette and Eagle Cliffs are requested to avoid the nesting areas of peregrine falcon May 1st - mid-July
Cannon Cliffs
Park at parking lot on the south side of Profile Lake Heading south on 93 through Franconia Notch
Artist Bluff
Rte 93 exit 34C head north on Rt3 18, park at Echo Lake parking lot
Eagle Cliff
te 93 exit 34B park in Tram parking lot. Go under highway and follow Greenleaf Trail
Indian Head
Rte 93 exit 33 take rte 3 north to Indian Head trail head just south of Indian Head Resort on left
For more climbs in the region go to www.Neclimbs.com.
Our region offers a diverse venue for swimming for all ages and abilities. Refreshing dips in mountain lakes and streams, to well safe-guarded beaches in Franconia Notch State Park. Even the "ole" swimming holes that made childhood memories. One caution for avid vacationers and water adventurers- cold water streams are to be admired and photographed, but unsafe for swimming due to the nature and unpredictability of the currents in these streams.
Echo Lake Beach
In Franconia Notch State Park at Exit 34C off I-93, is available for swimming. Entrance fee to the beach; Life Guard available at posted times.
Forest Lake State Park
In Whitefield NH, Exit 42 off I-93- take a right on Cottage Street towards Littleton. Take a right at lights and follow Route 116 north. Take left onto Forest Lake Road, State Park is a few miles on left. Open beach area with picnic tables and rest area.
Lonesome Lake
Pristine mountain lake with great views and refreshing swimming after a hike from the trailhead at Lafayette Campground, or across from the top of Cannon Mountain.
Swimming Holes on the Wild Ammonoosuc
Route 112 in Swiftwater, NH. Big Eddy is a bi-level pools fed by the river's flow caught in waterfalls over boulders under the covered bridge. Further down 112, is a parking place leading to Little Eddy, a smaller swimming hole edged by smooth rock slabs where Mom's and caretakers can lay out a towel and catch some extra tanning while the kids splash and play.
Water Parks
Whales Tale Water Park, located at 481 Daniel Webster Highway (Route 3)or Exit 33 from I-93, Lincoln, NH. The Whales Tale Water Park, recently named Best-in-Class Waterpark in America by Aquatics International Magazine, is the perfect funspot to chill out, thrill out, lay out or play out. It's an unforgettable day for the entire family at New England's Favorite Waterpark! Free for youngsters under 4 and adults over 70. Free tube usage. 3pm and twilight specials. SEASON: early June - Labor Day, 10am - 6pm weather permitting. Group rates available. Group rates available. Ph: 603-745-8810 or Email: info@whalestalewaterpark.net.
Swimming Pools
Indoor and outdoor pools are available at many inns, motels and resorts in the Franconia Notch Region. Check the many listings under Lodging and attractions.
Tennis aficionados can find courts in our area for quick matches or just enjoying the exercise outdoors or inside- great rainy day way to enjoy your vacation.
The Franconia Inn
Route 116, Franconia, NH
Tel: 603-823-5542.
Directions: Exit 38 off I-93, follow the sign to Route 116. Go straight at the blinking lights. Franconia Inn is on the right 2.5 miles.
Woodward's Resort
527 US Route 3, Lincoln, NH
Directions: Accible from Exits 33 and 34A off I-93
Other courts in our region: Indoor courts at Evergreen Sports Complex on Rte 302 in Lisbon, and there are town courts on Main Street in Sugar Hill.
Waterfalls provide arresting displays of nature's power during spring run-offs, are a welcome retreat on a hot summer day, radiate fall's colors in autumn, and reflect incredible frozen beauty in winter. There are over 100 waterfalls in the White Mountains, and more in the nearby Lakes Region. Some, like Silver and Flume Cascades are easily seen from the road, while others require a hike. The waterfalls mentioned below were chosen for their beauty and accessibility. Whichever waterfalls you choose to explore, please remember to wear sturdy, flat, rubber-soled walking shoes and take care during your explorations. Rocks and water make for slippery, and sometimes even dangerous going. Swim only where allowed and never drink the water. Help keep these special places beautiful by taking out everything you brought in, especially if you picnic. Always stay on marked trails and respect private property so that we can all continue to enjoy these remarkable falls for many years to come.
Top Waterfalls in Region
Arethusa Falls, Bemis Brook Falls
Height: 176'
Water Source: Bemis Brook
Location: Livermore, NH
Arethusa may be your destination, but Bemis Brook and Coliseum Falls are a bonus: these two are along the way to Arethusa. They are an easy .5 mile hike in, while Arethusa is 1.3 miles in on a hike of moderate difficulty. Arethusa is best viewed from below. Do not try rock scrambling: the rocks are unsafe. If you wish to swim, choose spots downstream.
Directions: 1 mile path south of Willey House site off Rt. 302 in Crawford Notch.
Bridal Veil Falls
Height: 80'
Water Source: Coppermine Brook
Location: Franconia, NH
Directions: Coppermine Trail off of Route 116 near Easton
The Basin, Cascades, Kinsman Falls, Rocky Glen Falls
Height: Varies
Water Source: Pemigewasset River
Location: Lincoln, NH at Franconia Notch
Directions: Rte 93 to The Basin parking lot the Basin is .1 miles from parking lot and then follow Cascade Brook trail just past the basin for the others. The Cascades is .2 mile from the starting point. Kinsman Falls is .5 mile from the parking lot. Rocky Glen Falls is over a mile from the starting point.
Falling Waters
Height:varies
Water Source:Falls Brook
Location: Lincoln, NH at Franconia Notch
Directions: Rte 93 to the Lafayette Campgound parking lot heading south, or the trailhead parking lot heading north.
5 falls can be seen along this trail which begins opposite Lafayette Campground
The Flume Gorge
The walk through this 800 ft. natural chasm takes you past waterfalls and scenic pools. Your visit is enhanced by a free 15 minute movie on Franconia Notch State Park and the informative displays in the Visitor Center. (Admission charged for the Gorge.) Avalanche Falls, once called Flume Cascade is located at the head of the Flume.
For other waterfalls in the area:
http://www.visitnh.gov/why-new-hampshire/exploring-the-great-outdoors/waterfalls.aspx
http://www.newhampshire.com/outdoors/waterfalls.aspx
http://www.nhstateparks.com/waterfalls.html